ERIM Awards Ceremony 2009: and the awards go to...;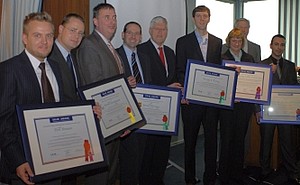 At the annual ERIM Awards Presentation Ceremony, ERIM (the Erasmus Institute of Management) honoured its best researchers of the joint institute of the Rotterdam School of Management, Erasmus University and the Erasmus School of Economics. The prizes are divided into different academic disciplines such as the Dissertation Award, the Book Award and the Impact Award.
Ale Smidts, Scientific Director of ERIM, opened the ceremony by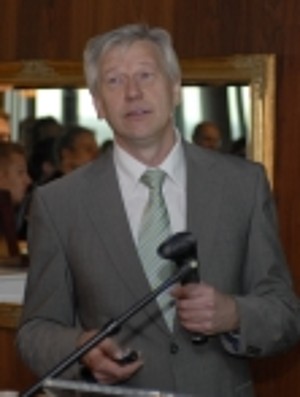 looking back on this year's milestones. He talked about ERIM's Second Lustrum Conference, its Managerial impact initiatives taking off, the strongly rising grant raising initiatives and successes, the excitingly talented new researchers, its Graduate School NWO Grant, the NVAO re-accreditation of the ERIM Research Master and the ERIM expertise portals reach. These milestones combined with an all-time high publication productivity especially in high quality publications, led Ale to describe 2009 for ERIM as "the best year ever".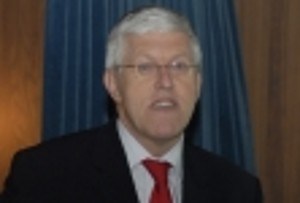 The ERIM Awards were presented by Professor Henk Schmidt, Rector Magnificus of the Erasmus University. He recognised ERIM to be one of its crown jewels, with top notch research. He considered ERIM to be exemplary as to how a graduate school should function in a modern university as well as a great example of multidisciplinary research. He continued by handing out the Awards to the following people: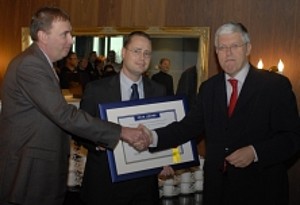 The ERIM Dissertation Award went to Patrick Verwijmeren for his dissertation entitled: Empirical Essays on Debt, Equity, and Convertible Securities. According to the Jury, "this dissertation consists of four empirical studies on firms' financing decisions. The essays are clearly written, well executed, and they provide a useful combination of several ideas in a single analysis. Already one paper has been published and the other three are in different stages of acceptance at very good finance journals. The dissertation was completed within four years and in this period also four other papers were published. This shows that Patrick was an excellent PhD student that fully deserves this award."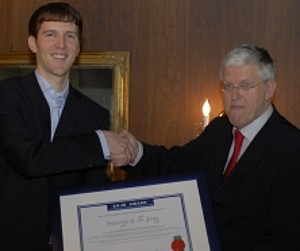 The ERIM Award for Outstanding Performance by a Young Researcher goes to Martijn de Jong. According to the Jury, "There was a unanimous decision to select Dr. Martijn de Jong on the basis of his six outstanding publications in the top scientific journals within three years after his PhD. This productivity places him at the very top of his cohort worldwide. Moreover, his work on solving the problem of measurement comparability in cross-cultural research is of major relevance not only to marketing and business, but to the social sciences at large. Martijn was already the recipient of the EUR Fellowship grant, the Tilburg Dissertation Award, the Niels Stensen award and the Johannes Ruigrok Award for Economics. Most importantly, this year he received the NWO VENI Grant.For a young researcher his research achievements in such a short time are really outstanding. ERIM can be proud to have a winner like Dr. Martijn de Jong as one of their members."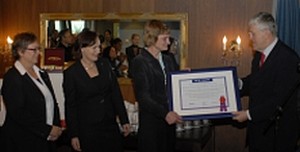 The ERIM Service Award goes to the: Erasmus University Academic Ceremonies Team, currently consisting of Ton Molendijk, Marleen van Kester, Barbara Wiggers, Hanneke van Loon, Bea Muilwijk and Tatjana Wechgelaar. According to the Jury, "Since the start of ERIM, the Academic Ceremonies Team has always organised the ceremonies of the ERIM PhD defenses, the ERIM Inaugural Addresses and the Honorary Doctorate Ceremonies of the Founding schools of ERIM in a very professional and service-oriented way. The team continuously works on improving the workflow and quality of the services for both ERIM researchers and for ERIM Office members. It is a pleasure to work with them."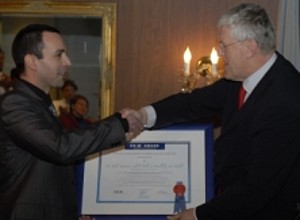 The ERIM Top Article Award goes to Berk Ataman, Assistant Professor of Marketing at the Rotterdam School of Management, Carl Mela (Duke's Fuqua School of Business) and Harald van Heerde (Waikato Management School, New Zealand) for their article Building Brands published in Marketing Science in 2008. According to the Jury, "This dissertation paper deepens our understanding on why some new brands fail and others succeed. "Building Brands" is an impressive and technically innovative econometric piece of work. Moreover, and equally important, it has greatly contributed to our knowledge on what really drives new-product success, given its inclusion of the full marketing mix. The empirical generalisations derived from over 200 new-product introductions are likely to fundamentally change how managers and academics think about these instruments' relative contribution. We especially value the managerial actionability of the insights. Largely based on this research a Harvard Business Review article was published by Carl Mela. To further support our choice, the paper was also a finalist for the 2008 John D.C. Little Award (for the best marketing paper published in Marketing Science or Management Science), while it also received an Emerald Citation of Excellence Award as one of the 50 best articles published in the broad management domain. It is truly an outstanding paper."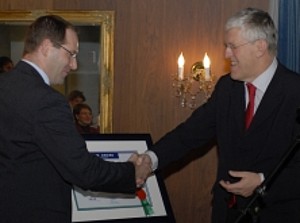 The ERIM Book Award goes to Berend Wierenga, Professor of Marketing at RSM. He is Contributor and Editor of the Handbook of Marketing Decision Models published by Springer. According to the Jury, "This book presents the state-of-the-art in marketing decision models. It discusses at a high academic level the recent research contributions in that domain. For researchers and doctoral students, it is the place to start to get a full update on recent developments in both more technical domains such as time-series applications in marketing and genetic algorithms in marketing, but also in more substantive domains such as sales promotions models and models of customer life-time values. In more than 15 areas, Berend Wierenga has convinced leading scholars from top universities to devote their time and energy to write a state-of-the art review on their domain of expertise. Furthermore, Wierenga not only ensured coherence among the chapters but he also contributed by writing an excellent integrating chapter, putting all contributions in the adequate perspective. The combined volume constitutes a great contribution to the field, as we now have a common platform to make progress from."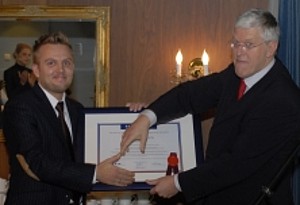 Finally, the ERIM Impact Award for the Impact on Management Practice went to Dirk Brounen, Professor of Finance and Real Estate for his research on Foreclosure auction dynamics in the Dutch housing market. According to the Jury, "Professor Brounen analysed a set of over 600 foreclosure sales at Dutch auctions and his results revealed an average price discount of over 37%compared to the fair market value. This discount can be explained by the informational asymmetries that associate these Dutch auctions. Brounen developed various proposals how to better organise these auctions to have a better chance of generating a fair price. His research attracted massive attention from the media. Also Dutch Parliament discussed his findings and this has led to a change in legislation targeted at increasing the information symmetry. The project also had a significant impact in the corporate community and new sale platforms have been launched this year in which homes of financially distressed households are now being auctioned at well organised, large scale auctions, which incorporate all the virtues of the internet. Finally, the research is now also under review at a top finance journal. Overall, this is a fine piece of academic work that had immediate managerial impact. It is a worthy recipient of the ERIM Impact Award." On receiving this award, Dirk Brounen commented that "This award is a glamorous example of how academic research can help society in addressing its challenges. As a follow on, we are currently working on transforming these insights for auctions of commercial real estate, which will then help the corporate community."
More Information
A detailed report on the ERIM Awards can be found in the left menu. Photos of the Awards Ceremony are available in the ERIM Picture Gallery.