ERIM Awards Ceremony 2011: and the awards go to…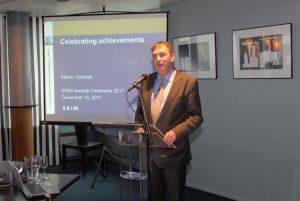 At the tenth annual ERIM Awards Ceremony, ERIM honoured its best researchers of the joint graduate school of the Rotterdam School of Management, Erasmus University (RSM) and the Erasmus School of Economics (ESE). The prizes are divided into different academic disciplines such as the Dissertation Award, the Book Award and the Impact Award.
Professor Marno Verbeek, Scientific Director of ERIM, opened the ceremony reflecting on this year's milestones and on the future. He proudly reminded the audience of the formal re-accreditation of ERIM by the Dutch Erkenningscommissie Onderzoeksscholen (commission of recognition of research schools). He outlined that ERIM has identified four strategic goals for the coming years which will be leading in ERIM's future directions.. The research institute will further strengthen its academic performance; it will further increase quality and international appeal of the doctoral programme; it will invest in capabilities to broaden and increase the research funding base and strengthen its visibility and reputation in management practice and society at large.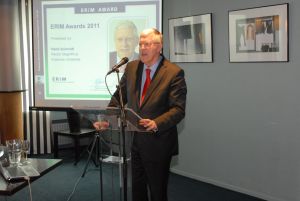 He then invited Professor Henk Schmidt, Rector Magnificus of Erasmus University Rotterdam to present the ERIM Awards. Professor Schmidt congratulated ERIM with its great achievements and recognised ERIM to be "one of the best if not the best graduate schools we have at Erasmus University", based on both organisation and performance.
Before moving to the traditional ERIM awards, the Rector handed an award to two of ERIM's senior colleagues who achieved a milestone in their career. Both Professors Philip Hans Franses and Rommert Dekker have delivered their 25th PhD earlier this year.
For this very special occasion, ERIM has created a unique honour award: the ERIM Praeceptor Doctorum Celeberrimus Award (in English: 'Highly Distinguished ERIM Promoter'). This award is made for an ERIM Promoter who has delivered 25 PhDs as a career achievement. The award is entirely written in Latin.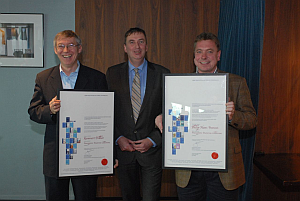 Schmidt continued by handing out the Awards to the following people:
The ERIM Book Award to Peter Wakker, Professor of Decision under Uncertainty at the Erasmus School of Economics, for the book Prospect Theory: for Risk and Ambiguity, published by Cambridge University Press. The jury says: "This book is the first comprehensive textbook on the topic of Prospect Theory. It is written in an engaging manner with many examples and thought provoking thought experiments. Strength of the book is that it allows readers with different interests to read different parts of the book, with diagrams showing how these parts are related. This makes the book easily accessible for a broad audience, from more theoretically-oriented readers and to readers interested in only applying the theories in practice."
The ERIM Dissertation Award to Maarten Wubben for his cum laude dissertation entitled Social Functions of Emotions in Social Dilemmas. Maarten currently works at RSM as a postdoctoral researcher and member of the Erasmus Centre of Behavioural Ethics. On this award, the jury says: "Cooperation is a phenomenon that is relevant and needed in many different contexts. Understanding cooperation and how it works, given that the collaborators are not completely rational, is hence an important line of research. This PhD thesis provides an impressive piece of work with many important insights on the role of emotions in social dilemmas. It provides a number of empirical studies, based on carefully designed experiments, which are mostly published in excellent journals in social psychology. Moreover, its results and insights are applicable to many different research areas."
The ERIM Top Article Award to Hao Jiang, Assistant Professor of Finance for his article:
Institutional investors, intangible information, and the book-to-market effect, published in the Journal of Financial Economics. The jury says: "This article takes a fresh look at a long-time known problem in the finance literature, the value puzzle. It provides an extensive and carefully done empirical testing section and important new insights. The findings raise a number of first-order issues for follow-up research. While ultimately the jury is still out on whether these effects can be understood by extending existing traditional asset pricing models, or whether alternatives based on career concerns or behavioral biases are better ways to move ahead, the paper by Hao Jiang is an extremely valuable contribution to the literature."
The ERIM Service Award to Kees Verburg, IT department at RSM. In the words of the jury:
"Kees Verburg is a true service professional, always ready to help. Kees has supported ERIM with many issues concerning information support systems, difficult database queries, business analytics, and other technical and information services. His drive for perfection of results in analyses is very strong. He is a silent force, and in combination with his great loyalty for the organization, he very effectively supports our research business. And last but not least Kees is a real team player and a very pleasant colleague to work with."
The ERIM Award for Outstanding Performance by a Young Researcher went to Bram van den Bergh, Assistant Professor at the Department of Marketing of RSM and to Dion Bongaerts,
Assistant Professor at the Department of Finance of RSM. In the words of the jury: "Bram Van den Berg is a very productive scholar with articles in P* journals in marketing, evolutionary psychology, biology en social psychology. The quality and relevance of his works is highlighted by the EU Marie Curie Grant, and the NWO Rubicon and Veni Grants that he received, and the large amount of coverage in the international media. Dion is also a very talented young scholar who has been able to realise two publications in the prestigious Journal of Finance within one year after his PhD defence. This is an exceptional achievement that only the very best young researchers in finance of the world are able to obtain. His international exposure and research pipeline are also very impressive." The jury ends by saying that "ERIM can be proud to have winners like Dr van den Bergh and Dr Bongaerts as two of its members."
Finally, the ERIM Impact Award for the Impact on Management Practice goes to Professor David de Cremer for his book "Als goede mensen slechte dingen doen: De psychologie achter de financiële crisis" (If good people do bad things. The psychology behind the financial crisis.). The jury, consisting of Drs Marco van Kalleveen (Senior Vice President at Bain Capital London) and Drs Paul Pietersma MMC (Managing Director Berenschot), explains its choice this way: "In a concise and to-the-point language, De Cremer is able to identify the crucial flaws in the financial sector. His research stresses that management is often clouded by emotional and human irrational tendencies, and is illustrated by several "eye opening" insights and practical examples. Through this book, articles and associated attention in the news media, De Cremer's insights have been widely shared with a larger audience, including the key decision makers. Especially the topic of "self-created myth of the bonus" has received international attention. Not only does De Cremer identify necessary changes, but he also provides tools and guidelines on how to achieve them. To this end, he is actively engaged in dialogues with banks and the Dutch National Bank on how to improve trust and reward systems."