2014: Honouring top research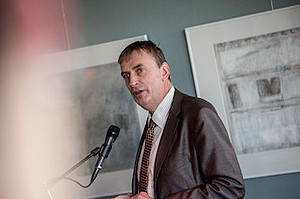 During the thirteenth annual ERIM Awards Ceremony, the Erasmus Research Institute of Management (ERIM) honoured its best researchers of the joint research institute of Rotterdam School of Management, Erasmus University (RSM) and the Erasmus School of Economics (ESE). The awards are divided into various academic disciplines such as the the Book Award, the Dissertation Award, and the Management Impact Award.
Professor Marno Verbeek, Scientific Director of ERIM, opened the award ceremony reflecting on this year's milestones and on the future. He talked about the ERIM priorities for the coming years, being to further strengthen academic performance and increase quality and international appeal of the doctoral programme; to invest in capabilities to broaden and increase the research funding base and to strengthen visibility and reputation in management practice and society at large. This focus already led to a steady growth in top tier academic journals, and to an increased number of citations. Another important aspect Marno emphasised is scientific integrity, which remains an important element on the ERIM agenda for the coming years.
Professor Huibert Pols, rector magnificus of Erasmus University Rotterdam, named and presented the ERIM Awards. Professor Pols started by announcing the most senior award: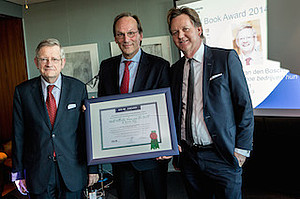 The 2014 Book Award was presented to Henk Volberda, Frans van den Bosch, and Kevin Heij of RSM for their book Re-inventing business: hoe bedrijven hun businessmodel innoveren published in 2013 by Koninklijke van Gorcum. The jury said: "This book deals with the timely topic of business model innovation, and the authors combine their insights and research findings to offer managers various helpful conceptual tools and practical examples that may assist them in their own business model approach. Ideas are presented and illustrated in a clear manner, and as such this book can prove a useful resource for many managers."
The 2014 Dissertation Award was presented to Joris Kil from ESE for his dissertation entitled Acquisitions Through a Behavioral and Real Options Lens. Promoter was Professor Han Smit. The jury said: "In his PhD thesis, Joris integrates two important streams of research in an innovative and excellent way: real options and behavioural finance. His four chapters all provide significant contributions to the financial and strategic management literature, and enhance our understanding of the acquisition decisions of firms and the - often suboptimal - behaviour of CEOs in this context."
The 2014 Junior Top Article Award, a new award this year, was created for the best publication in management by an ERIM PhD student or junior ERIM member. This new award was presented to RSM PhD student Ioannis Evangelidis and Jonathan Levav for their article "Prominence versus Dominance: How Relationships Between Alternatives Drive Decision Strategy and Choice" published in the Journal of Marketing Research, December 2013. The jury said: "By combining original thinking with multiple well-designed experiments, this article scores high on originality and robustness. The ideas presented in this article extend, in a nontrivial way, contemporary academic knowledge on the important topic of preference ordering in decision-making."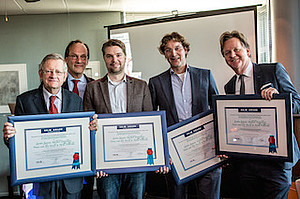 The 2014 Top Article Impact Award is granted for an article published by ERIM faculty having made the most impressive academic impact. Also new this year, it was presented to Justin Jansen, Michiel Tempelaar, Frans van den Bosch and Henk Volberda, all from RSM, for their article "Structural Differentiation and Ambidexterity: The Mediating Role of Integration Mechanisms" published in Organization Science, in 2009. The jury said: This is an excellent article that significantly advanced thinking and research on the topic of organisational ambidexterity. It provides an improved understanding of how firms at the same time can effectively pursue exploitation of existing competencies and exploration of new ones. The several hundreds of citations it has accumulated in just a few years evidence its significant contribution and impact."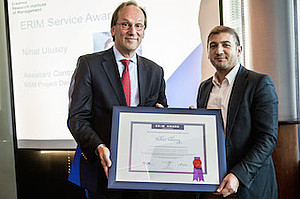 ERIM continues to honour the research support services of Erasmus University's staff members. High-quality services play a vital role in enabling top academic research. This award aims to recognise that. The ERIM Management Team selects the recipients of the award. For 2014, the ERIM Service Award was presented to Nihat Ulusoy, Project Controller at RSM. The jury said: "Nihat Ulusoy is a very client oriented and dedicated project controller, who is crucial for ERIM's financial management and reporting. He is helpful, accurate and a very reliable and friendly colleague."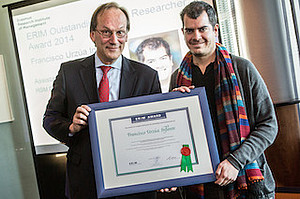 The 2014 ERIM Award for Outstanding Performance by a Young Researcher was presented to Francisco Urzúa Infante, Assistant Professor of the Department of Finance at RSM. The jury said: "Francisco has substantially contributed to core areas of finance: external capital markets (more specifically, the role of large shareholders) and internal capital markets (for business groups within the firm), with innovative articles of high quality. This has resulted in three P-star publications in the leading finance journals, all in two years. What makes it even more impressive is that all this has been achieved during his PhD period." Marno Verbeek added to this: "Eligible for this award are ERIM Members or ERIM Associate Members who received their PhD less than five years ago. For this award we had a number of excellent candidates, exemplary of the large pool of young talent that is currently at ERIM."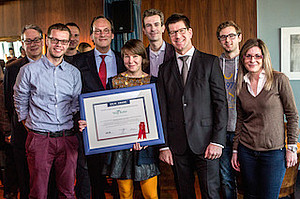 Rounding out this year's award programme was the 2014 Award for the Impact on Management Practice going to the Erasmus Centre for Future Energy Business, directed by Professor Wolfgang Ketter, of the Department of Technology and Operations Management at RSM. The jury said: "The Erasmus Centre for Future Energy Business adopts an innovative multidisciplinary approach contributing to new solutions to very important problems that can be tested in the real life. In addition to doing excellent research, they make their work available in more common language to the larger public, specifically to entrepreneurs. Part of the research is focused on getting things changed by proposing really new business models. This way, the Erasmus Centre for Future Energy Business helps to make the move from theory to practical implementation. Therefore, the Centre, and its director Wolf Ketter, more than deserve this year's ERIM Impact Award."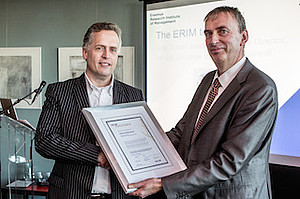 A special award was created and presented to Wilfred Mijnhardt, who served as Executive Director for ERIM over the past 15 years. Wilfred was nominated RSM Policy Director earlier this year, and succeeded as Executive Director in the ERIM office by Dr Monique van Donzel. The ERIM board deemed it appropriate to name Wilfred Mijnhardt Honorary Advisor to the ERIM Scientific Director. According to Marno Verbeek, "Wilfred has been crucial to everything ERIM has achieved over the last 15 years. The concepts he outlined remain crucial in the coming years. We will miss Wilfred's never ending energy, his commitment and responsiveness."