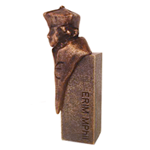 In Latin, ingenium means talent, while studium refers to research, study, and zeal.
The sculpture depicts a young Desiderius Erasmus of Rotterdam. This famous humanist and theologian, a driven and dedicated Renaissance genius, has served as an example and inspiration for the international community for centuries. The image of a young Erasmus is meant to inspire the young talent of today – our Research Master graduates – in their search of excellence.
The Ingenio et Studio sculpture is handed out to ERIM's Research Master students upon their graduation. It is an open edition ERIM sculpture, unnumbered. Every year, ERIM hands out 10 to 20 of these sculptures.
Technical details
Modelled in wax and following the circe perdue technique.

Height: 11,5 cm
Weight: 730 gr
Bronze alloy: 90/10
Initials: EH
Applied engraving: ERIM MPhil

Sculpted by Elly Hendrix