Erasmus Centre for Strategic Philanthropy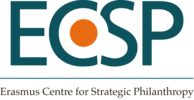 The Erasmus Centre for Strategic Philanthropy (ECSP) was founded to enhance the performance and effectiveness of the philanthropic sector. We aspire to be a preeminent knowledge and learning centre that supports, stimulates and challenges (non-grantseeking) foundations, philanthropists and their partners in realizing their full potential for societal benefit.
ECSP is embarking on an exciting new phase, with an increased focus on strategic philanthropy and systemic change. To us, these themes relate to the dual challenge of structuring and managing versatile and truly performance-oriented (impact-driven) philanthropic organizations and contributing effectively and efficiently to the resolution of complex societal issues.
ECSP offers capacity-building services to established and beginning (family, independent and corporate) foundations, philanthropists and their main stakeholders in three areas: Training and Education, Advisory Services and Learning Networks and Events. We develop competence-oriented learning programmes, provide 'strategy and impact' advisory services and initiate boundary-crossing research projects.
ECSP is an independent centre, supported by a group of prominent foundations and affiliated with Erasmus University Rotterdam. We embrace the idea of a vital philanthropy knowledge sharing and learning ecosystem for practitioners, experts and academics in Europe. Therefore, ECSP continuously seeks out new partners to explore ways to collaborate and exchange knowledge, such as international membership organizations, research and knowledge institutions and consulting firms.
ECSP emphasizes its bridging role between philanthropy practitioners and academics and our activities are therefore connected to academic research and education where possible. We enjoy working with all international academics that share our interest in developing and sharing relevant knowledge about the potential and effectiveness of foundations and the broader philanthropic sector.