Global Servant-Leadership Research Roundtable (GSLRR)
There is an increasing interest in servant leadership within our society. For years, the general thinking on leadership was focused on a person with a vision, highly practical and with an inspirational presence. In recent years, however, there has been a shift in the managerial ideal type. The financial crisis has emphasized the importance of ethically responsive leaders for long-term benefit of companies.
From July 9th-11th 2008, the RSM hosted to first Global Servant-Leadership Research Roundtable (GSLRR). This roundtable was a joint initiative of Dirk van Dierendonck (RSM, Erasmus University), Kathleen Patterson (Regent University, United States) and Zani Danhauser (University of Stellenbosch, South Africa). The roundtable brought together a core group of authoritive and promising researchers with an active interest in servant leadership.
The presentations included a broad range of topics:
Larry Spears, A Selective Review of Servant-Leadership Literature.
Stephen Prosser, 'Purity versus popularity': potential opportunities and tensions among the differing emphases of servant-leadership.
Jody Fry, Toward a Theory of Being-Centered Leadership: Multiple Levels of Being as Context for Effective Leadership.
Thorsen Grahn, Gardening tips for servant leaders.
Kathleen Patterson & Doris Gomez, Comparative Perspectives on Servant and Spiritual Leadership.
Corne Bekker, Animated to serve: The contributions of contemporary spirituality research to the study of servant leadership.
Shann Ferch, Servant-Leadership, Courage, and Forgiveness: the interior of the leader and the art of leadership.
Marleen Ramsey, Servant-Leadership and Unconditional Forgiveness: The Lives of Six South African Perpetrators.
Raquel Rodriguez, Servant leadership, key factor to achieving flow and engagement.
Ralph Lewis, The "Practice" of Servant-Leadership.
Zani Dannhauser, Is Servant Leadership empirically related to positive reactions of organisational members?
Marina Dimitrova, An Empirical Test of the Servant Leadership Theory in the Bulgarian Context Robson Marinho, Cross-cultural Perceptions of Servant Leadership among College Students: A Pilot Study
Mihai Bocarnea, Servant Leadership Constructs as Antecedents of Organizational Commitment and Job Satisfaction in the Philippines
Dirk van Dierendonck, The Servant Leadership Inventory (SLI), development and validation of a multidimensional measure
Andrea Bobbio, The Servant Leadership Inventory (SLI). Factorial structure and effects on organizational and individual variables.
Sandra Kuisl, Career succes, commitment and proactive behavior among high potentials, the key role of servant leadership and intrinsic motivation
Inge Nuijten, The servant leader's drive and benefits.
The roundtable was sponsored by the Erasmus Research Institute of Management (ERIM), the Greenleaf Center Europe and the School of Global Leadership and Entrepreneurship, Virginia Beach.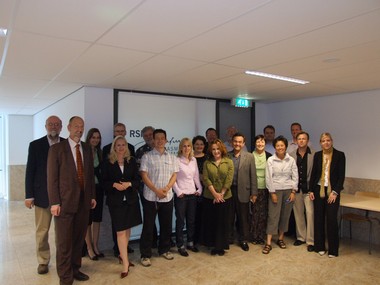 Links
Greenleaf Center for Servant Leadership in Indianapolis
Greenleaf Center for Servant Leadership in The Nederlands
Servant Leadership Research Roundtable at Regent University