Erasmus Leadership Conference
The Erasmus Leadership Conference took place from the 17th June until the 19th June 2009 at the Erasmus Centre for Leadership Studies.
There has been and still is a great interest in effective leadership in organizations. Given the recent financial crisis and the economic and political situation of many organizations, this interest in understanding effective leadership seems to be more than ever on our research agenda. Recent developments in the field put on the research agenda many new topics, like ethical leadership, justice and leadership, servant leadership, identity and leadership, leadership and diversity, leadership and creativity, etc. Further, many established leadership topics, like personality, transformational and transactional leadership, LMX, or contingency theories of leadership, have been extended in important ways.
Inspired by these developments, we have organized the Erasmus Leadership Conference. The goal of the conference was to encourage innovative empirical research in this field by bringing together top researchers interested in different aspects of Leadership. The meeting was hosted by the Rotterdam School of Management and organized by the recently founded Erasmus Centre for Leadership Studies, which is part of the Rotterdam School of Management, one of the top three research schools in management in Europe. The conference was financially sponsored by the Erasmus Research Institute of Management (ERIM) and the Erasmus Trustfonds (ref:97090.06/09.0350/etv).
The meeting provided a lively exchange of research ideas and research questions. The 38 participants of the meeting enjoyed the atmosphere of the conference and made the Erasmus Leadership Conference a great success. We hope to see many of the participants next year again.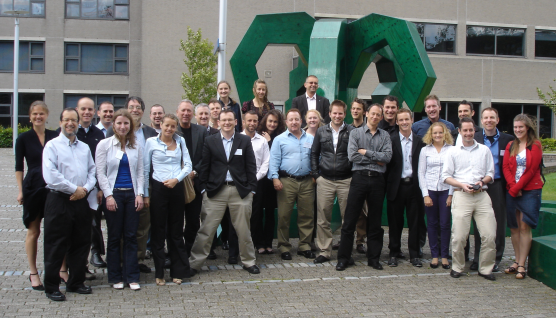 Below you can see a list of the presenters at the conference. Furthermore, the conference program including the titles of the presentations and abstracts can be downloaded by clicking here.
Steven Blader
Leonard N. Stern School of Business,
New York University
David Day
Business School,
University of Western Australia
David De Cremer
Rotterdam School of Management,
Erasmus University
Annebel de Hoogh
Department of Work and Organizational Psychology,
University of Amsterdam
Scott De Rue
Stephen M. Ross School of Business,
University of Michigan
Steffen R. Giessner
Rotterdam School of Management,
Erasmus University
Mark Griffin
Institute for Work Psychology,
The University of Sheffield
Eric Kearney
Jacobs Center on Lifelong Learning and Institutional Development,
Jacobs University Bremen
David Mayer
Stephen M. Ross School of Business,
University of Michigan
Tanya Menon
The University of Chicago Booth School of Business,
University of Chicago
Fred Morgeson
The Eli Broad Graduate School of Management,
Michigan State University
Todd Pittinsky
Harvard Kennedy School,
Harvard University
Sim Sitkin
The Fuqua School of Business,
Duke University
Daan Stam
Rotterdam School of Management,
Erasmus University
Johannes Ullrich
Department of Psychology,
Johan Wolfgang Goethe University Frankfurt
Rolf van Dick
Department of Psychology,
Johan Wolfgang Goethe University Frankfurt
Dirk van Dierendonck
Rotterdam School of Management,
Erasmus University
Daan van Knippenberg
Rotterdam School of Management,
Erasmus University
Niels van Quaquebeke
Rotterdam School of Management,
Erasmus University
David Waldman
W.P. Carey School of Business,
Arizona State University
Stephen Zaccaro
Department of Psychology,
George Mason University