PhD Defence: Servant Leadership to the Test
---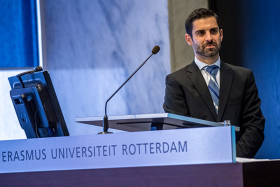 Too often, being humble is linked to iconic spiritual or political leaders – instead of humility in leadership in the business world. In his PhD dissertation entitled 'Servant Leadership to the Test: New Perspectives and Insights', Milton de Sousa reveals that the more power you have as a leader, the more humility will help you to be a successful one.
De Sousa discloses humility as one of the virtues of being a servant leader. Leaders can amplify the effect of their actions if they stand back and empower followers to take more ownership. This will gain leaders more respect and get employees more engaged.
Surprisingly, this theory is most evident when the leader is in a high position of power, and not so much in the lower ranks, where traditional leadership aspects like accountability and providing direction seem to be sufficient. The higher you go on the hierarchal ladder, the more relevant humility becomes. Powerful humble leaders benefit from a more open culture where learning, honesty and listening gain prominence.
This means that to climb to the top of the ladder you might not always benefit from humility. But once in a position of power, being humble can help you become more effective.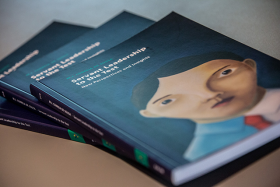 Milton also found servant leaders naturally underestimate their own leadership capabilities, compared to how their followers see them – confirming their humble nature.
De Sousa defended his dissertation in the Senate Hall at Erasmus University Rotterdam on Thursday, 12 June 2014. His supervisor was Daan van Knippenberg, Professor of Organisational Behaviour at RSM and his co-supervisor was Dirk van Dierendonck, Associate Professor of Organisational Behaviour at RSM. Other members of the Doctoral Committee were Professor Robert Liden (UIC Business, University of Illinois), Professor Claudia Peus (Technische Universität München), as well as Dr Steffen Giessner, Dr Daan Stam and Professor Rob van Tulder (ERIM).
About Milton de Sousa
Milton de Sousa is currently Academic Director for the MBA and Executive MBA, and Associate Director for the Executive MBA at Rotterdam School of Management, Erasmus University (RSM). Milton graduated in electrical and computer engineering at the University of Porto in 1998. In 2003, he finished his MBA with distinction at Nimbas/Bradford University in the UK. De Sousa initiated his career as an engineer at Philips Research in the Netherlands, after which he moved into business as product and business development manager at Philips Semiconductors and later at Chipidea Microelectronica. After eight years in the semiconductor industry, De Sousa worked as a consultant in innovation and organisation development at Sociedade Portuguesa de Inovação and at consulting firm Hay Group. In 2009, he founded Leaders2Be, offering talent and leadership development solutions for business schools, universities and companies. Since 2010, De Sousa is Executive Director of the Estoril Conferences, a large international forum on globalisation that gathers renowned world leaders from business, academia and public sector. He has worked with institutions such as the United Nations, World Bank, European Commission, NATO and several world-class universities.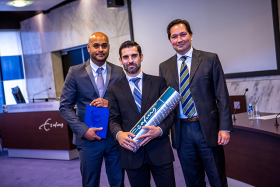 Abstract of Servant Leadership to the Test: New Perspectives and Insights
In support of the growing adoption of servant leadership and empirical evidence of its effectiveness, this dissertation expands on the applicability of servant leadership in different organisational and relational contexts. Two of the four empirical studies focused on contrasting organisational perspectives. The first study developed a new short survey servant leadership which can be particularly suited for shared leadership assessments. Through this instrument it was possible to observe that shared servant leadership in small self-managed teams positively affected team behavioural integration and performance. A second study showed that servant leaders can be effective in ensuring workforce engagement during significant and uncertain large scale change processes through increased organisational identification and psychological empowerment.
The two other studies of this dissertation explored relational factors. The third study allowed for a better understanding of the interaction between the virtuous and the action side of the servant leader. In particular, the virtuous side, which rests on an attitude of humility and standing-back, amplifies the impact of the action side on follower engagement, but this effect is only evident when the leader is in a high position of power. The last study focused on differences between self and other perceptions of leadership and concluded that servant leaders seem to under-estimate their own leadership behaviour, confirming their humble nature. Finally, this dissertation also provides additional evidence on the potential validity of servant leadership across different national cultures.