Authentic management research wins recognition for Dr. Hannes Leroy
---
The Journal of Management Studies (JMS) awards prizes each year to recognise noteworthy contributions to the field. Dr Hannes Leroy, Assistant Professor of Human Resource Management at Rotterdam School of Management, Erasmus University (RSM) and ERIM Member, recently won the Karen Legge JMS award 2016 for outstanding contributions by an early career researcher to JMS and the management studies community.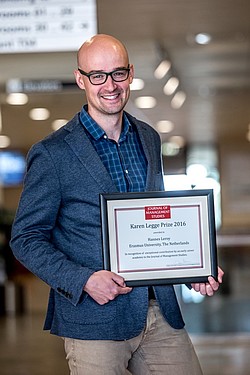 "I am deeply humbled by winning this award. It has reinvigorated me to dedicate myself to my work with extra effort to try and live up to the potential others see in me. I am very grateful for that," says Dr Leroy. Leroy's current research focuses on demonstrating that authenticity is important in a work environment, but not always as great, straightforward or as easy as people make it out to be.
Recent research by Leroy shows that 'leader behavioural integrity' (whether leaders walk their talk) matters for employee productivity, team performance, and even company profit not just because those leaders are seen as more ethical but, perhaps more importantly, because behavioral integrity leads to more clarity of communication. He also co-authored a study about why it's harder for women to be seen as authentic, effective leaders, together with Jasmien Khattab.
The Journal of Management Studies is a peer-reviewed academic journal. The journal publishes both conceptual and empirical papers in the field of management. Specific areas of focus include, organizational theory and behavior, strategic management, human resource management, and cross-cultural comparisons of organizational effectiveness.