A. (Ainara) Novales MSc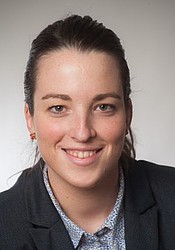 Rotterdam School of Management (RSM)
Erasmus University Rotterdam
ERIM PhD Candidate
Field:
Logistics & Information Systems
Affiliated since 2016
PhD Track Digitized product performance: The impact of product generativity and product use data
The use of IT components in physical products is becoming increasingly relevant in practice, with the development of so-called smart-connected or digitized products. While IS researchers have recently started to investigate their definition, classification and categorization, little is known about the factors that influence their performance. Based on an extensive literature review, two elements are identified as being especially relevant for digitized product performance: product generativity and product use data. This dissertation proposes to adapt the DeLone and McLean model of IS success, to include these newly identified determinants of digitized product performance.The aim of this dissertation is to validate this model by looking at the determinants that shape digitized product performance, and more precisely at the impact of product generativity (as an important aspect of ecosystem (or platform) quality) and product use data analytics on digitized product performance.

While the project is centered in the information systems discipline, it is designed to be cross-functional and will draw on the theoretic foundations of the field of strategy (e.g., innovation, competitive advantage, capability/resource-based view of the firm) and information systems engineering (e.g., data analytics, digitized product platforms/ecosystems). This project will use a mixed-method approach combining qualitative and quantitive research.
Keywords

Digitized products, smart products, smart-connected products, cyber-physical systems, Internet of Things, performance, IS success

Time frame

2016 -
---
Address
Visiting address
Office: Mandeville Building T07-08
Burgemeester Oudlaan 50
3062 PA Rotterdam
Postal address
Postbus 1738
3000 DR Rotterdam
Netherlands