D. (Derck) Koolen
RSM - Rotterdam School of Management
Erasmus University Rotterdam
ERIM Doctoral Student
Field:
Logistics & Information Systems
Affiliated since 2014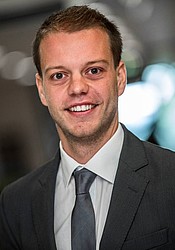 Derck Koolen is a PhD Candidate at the Erasmus Centre for Future Energy Business and Technology and Operations Management department at Rotterdam School of Management, Erasmus University. His research focusses on the risks and challenges for electricity market design in integrating sustainable energy sources. Following a multi-method approach, the impact of a larger integration of intermittent renewable energy sources is assessed in terms of market efficiency, strategic bidding decisions and risk behavior in relation to the design of electricity markets. He is involved in teaching courses for MBA and MSc students and supervises master thesis projects with practical relevance. Derck holds a Master degree in Energy Engineering and has worked as an energy economist for a German grid operator. 
PhD Project
Risks and Challenges for Electricity Market Design in Integrating Sustainable Energy Sources
With the growing share of sustainable energy sources, electricity markets experience increasing uncertainty and volatility. As with other financial markets, information flows are seen to play a key role in the decision making process and hedging activities with forward contracts serving as a mean for risk reduction in liberalized electricity markets. Furthermore as electricity storage is not yet economically viable, markets experience a range of producing technologies with different constraints. Forward price models can however not be universally applied across all electricity markets and with the ongoing decarburization of the electricity sector, there is not yet a definitive view on how decision making, expectations and risk premiums vary over markets and over time.
We contribute to the discussion on the design of the future electricity market and raise challenges and conditions for integrating larger shares of renewable energy sources via a multi-method approach. The work builds on equilibrium pricing models in a heterogeneous technology agent setting. Next, we simulate various conditions in an experimental market setting and validate empirically. This allows us to spur innovation as it allows market structures to be evaluated under various real-world conditions and alter market design both from market and individual perspective. Analyzing these systems, relationships between market participants, technology adaption and changes to market behavior provide ingredients of key importance for devising a robust well-functioning electricity market, its design and its governing policies.
Keywords

Market Design, Environmental Sustainability, Energy Informatics, Risk Premiums, Electricity Pricing

Time frame

2014 -
Publications (4)
Articles (4)
Koolen, D., Qiu, L., Ketter, W. & Gupta, A. (2017). Market Efficiency and Design in Electricity Markets Integrating Renewable Energy: Theory and Simulation. In 2017 Winter Conference on Business Analytics (WCBA). Snowbird, Utah.

Koolen, D., Huisman, R. & Ketter, W. (2017). The Electricity Forward Price with Increasing Intermittent Supply. In International Conference on Energy Finance. Hangzhou, China.

Koolen, D., Qiu, Lei & Ketter, W. (2016). Decision Making under Information Revelation Policies in Electricity Markets. In 2016 Winter Conference on Business Intelligence (WCBI). Snowbird, Utah.

Koolen, D., Huisman, R. & Ketter, W. (2016). Risk and Decision Making for Electricity Forward Markets with Volatile Resources. In Energy and Commodity Finance Conference 2016. Paris, France.
---
Address
Visiting address
Office: Mandeville Building T09-07
Burgemeester Oudlaan 50
3062 PA Rotterdam

Postal address
Postbus 1738
3000 DR Rotterdam
Netherlands