E. (Elisa) Maira
RSM - Rotterdam School of Management
Erasmus University Rotterdam
ERIM Doctoral Student
Affiliated since 2012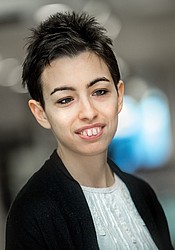 Elisa Maira is a fifth-year PhD Candidate in Marketing at Rotterdam School of Management.
Her research interests are diverse, and lie at the cross of marketing strategy and consumer behaviour. In her main research project, she investigates how consumers react to company acquisitions. In her other two projects, she studies consumer as producers. In particular, she looks at the motivating effect of providing the producer with sales feedback and of disclosing information about the customer.
Elisa holds a MSc in Marketing Management (cum laude) from Bocconi University (Milan, Italy). Prior to joining Rotterdam School of Management, she worked for two years in the FMCG industry.
PhD Project
Consumer reactions to acquisitions
Acquisitions are a popular growth strategy for firms . Although many acquisitions are carried out specifically because acquirer firms are interested in the brand possessed by target firms, both academic research and managerial practice tend to overlook consumer response to these operations. Across six studies, we show that acquisitions decrease attitudes towards the acquired brand, shift consumer preferences in favor of products from non-acquired firms, and influence the valence of content posted online. We propose an identity loss account to explain such negative consumer responses to acquisitions. Accordingly, the mere fact of being acquired weakens the identity of the acquired brand in the eyes of consumers, with adverse downstream consequences for preferences and choice. A number of studies provide evidence for this process and against alternative accounts such as loss of underdog status. Academic research on acquisitions has predominantly focused on internal, supply-side issues and we add to this literature by proposing an external, demand-side perspective.
Keywords

acquisitions, brands, identity

Time frame

2012 -
---
Address
Visiting address
Office: Mandeville Building T10-07
Burgemeester Oudlaan 50
3062 PA Rotterdam

Postal address
Postbus 1738
3000 DR Rotterdam
Netherlands