prof.dr. G. (Gabriele) Jacobs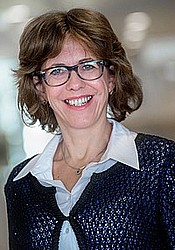 Endowed Professor
Rotterdam School of Management (RSM)
Erasmus University Rotterdam
Gabriele Jacobs is Professor of Organisational Behaviour and Culture at the Department of Organisation and Personnel Management at Rotterdam School of Management, Erasmus University (RSM).
Her research interests include: Organizational change, justice and identity, leadership, international management, civic engagement, co-creation, methodology.
Gabriele Jacobs is the co-director of the Centre of Excellence on Public Safety Management (CESAM) (www.rsm.nl/cesam) which she co-founded in 2014.
She graduated with her PhD from University of Münster, Germany in 1998 within a multidisciplinary PhD program of the Deutsche Forschungsgemeinschaft (DFG). From 1992 - 99 she worked as researcher and assistant professor at the University of Cologne (Department of Economic and Social Psychology). In 1998 she was Visiting Professor at HEC, Paris (Department of Human Resource Management). Next to presenting her work at international conferences, Gabriele publishes in a wide range of academic journals in organizational behavior, marketing and management and also in journals with an applied focus.
She is involved in several EU-projects in the field of safety and security. Next to this she coordinates and conducts national research projects focusing e.g. on the Dutch police reform and changes in the law system.
Currently she coordinates the Erasmus+ Knowledge Alliance on "International Security Management", which aims at creating sustainable and concrete resources and structures to foster international security collaborations. It's consortium consists of nine partners from six European partner institutions. Between 2010 and 2014 she coordinated COMPOSITE (Comparative Police Studies in the EU), a FP7 EU project in the field of security. COMPOSITE (www.composite-project.eu/) looked into small and large scale change processes in police forces across Europe. The project identified factors contributing to success or failure of these change processes, with a special focus on the role of professional and organizational identity. Its consortium consisted of 15 partners from 10 European countries, covering universities, police academies, technology research institutes and consultancies. 
Gabriele derives her academic passion and inspiration from the collaboration and dialogue with inter-disciplinary academics and multi-sector practitioners. She feels that academia needs to address core societal challenges in order to facilitate sustainable and innovative solutions. 
Gabriele Jacobs is married and has a son and two daughters. A dog and (adopted) parrot also belong to the family. She loves traveling, sport, reading and admiring art, especially photography. Also she is excited about the new family hobby, namely discovering the Netherlands by boat. 
Work in Progress (3)
D. Bilgeri, P.S. Bayerl, J. van Dalen & G. Jacobs (2018). Impact of surveillance for customer acceptance of smart home technologies. European Journal of Information Systems.
K.E. Horton, G. Jacobs, P.S. Bayerl, M. Rothengatter, K. Elliott, M. Gasco, S. Giljohann & C. Rus (2018). Are you legit? Making sense of the legitimacy of stakeholders' critique. Human Relations.
F. Belschak, G. Jacobs, S.R. Giessner, K.E. Horton & P.S. Bayerl (2018). When the going gets tough, machiavellians get going: Reactions to organizational change. Journal of Applied Psychology, inRevision.
PhD Vacancies (2)
Nowadays challenges facing organizations are complex due to the involvement of many parties and the number of issues that have to be addressed. The necessity, but also complexity of the involvement of multiple stakeholders becomes even clearer when organizing solutions to highly significant societal problems. Core characteristic of highly significant societal problems are that they are complex with unknown solutions and intertwined technical and social aspects and that they require sustained effort from a multitude of diverse stakeholders (Eisenhardt, Graebner, & Sonenshein, 2016; George, Howard-Grenville, Joshi, & Tihanyi, 2016). Product development and supply chain sustainability may be examples for daily multi-stakeholder challenges faced by organizations, crises resolution and the management of public safety may be examples for significant societal problems.
A variety of stakeholders is involved, such as buyers, sellers, employees, investors, interest groups, the government, citizens, and so on. They are involved and needed in order to establish an attractive outcome. However, the interactions between these parties are complicated due to conflicting interests, different beliefs, multiple coherent solutions, and different cognitive frames. Organizing multi stakeholders entails therefore making many choices.
The overarching theme regarding multi stakeholders organizations is to study how these stakeholders overcome ownership, incentive, coordination and cognition problems in order to establish attractive outcomes. These choices are delineated in four projects:
Cooperatives / Franchises: Two Worlds in One Organization;
Governance of Bounded Cognition;
Governance in Crisis Situations;
Governance of Safety and Security.
Read more
People are the greatest asset of organizations delivering complex products or services. For such knowledge-intensive work, it is of crucial importance that individuals proactively contribute their knowledge, expertise, and creativity in collaborative team efforts to realize high-quality performance. With growing diversity and reliance on cross-national collaborations, this also increasingly includes the ability to bridge gaps in understanding and experience to achieve effective collaboration and synergy. All of this renders an understanding of the factors influencing the motivation, collaboration, and performance of people at work of growing importance to business success. The influence of such factors is the domain of study of organizational behaviour (OB) and human resource management (HRM)– the study of individuals, groups and organizational practices at work. In studying these influences, ERIM's research group OB/HRM highlights the role of leadership, team work, HR practices and employee well-being in the performance of individuals and teams. The research group is looking for a PhD candidate in OB/HRM to be part of this program of research. The specific focus of the project will be determined in a collaboration between the PhD candidate and the supervising faculty, but the expectation is that the focus would be aligned with the core expertise of the supervisory team in leadership, diversity, HR management, performance management, teamwork, social networks, creativity, and empowerment.
Read more
---
Address
Visiting address
Office: Mandeville Building T04-03
Burgemeester Oudlaan 50
3062 PA Rotterdam
Postal address
Postbus 1738
3000 DR Rotterdam
Netherlands