I. (Ingolf) Dittmann
Full Professor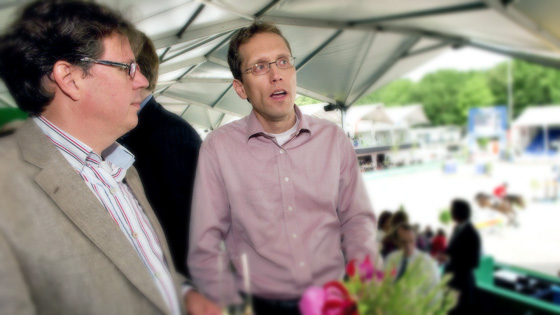 Professor of Corporate Governance and Managerial Accounting
Programme:

Finance & Accounting
ERIM Membership:

Fellow ERIM (since 2005)
ERIM Role(s):

Member ERIM Programme Advisory Committee (PAC) (since 2012)
Profile
Ingolf Dittmann is a professor of corporate governance and managerial accounting at the Erasmus School of Economics (ESE).

Professor Dittmann's major areas of interest lie in corporate finance, corporate governance, executive compensation and behavioural finance.

He is a member of both ERIM and the Tinbergen Institute.

He currently chairs the research project 'Explaining Stock Options in Executive Compensation', financed by a vidi grant from the Netherlands Organisation for Scientific Research (NWO).

Earlier career roles include that of visiting scholar at the University of California in San Diego.

Professor Dittman received his PhD from Dortmund University and his Habilitation (a second German degree) from Humboldt-University at Berlin.
Events

(64)
May 16, 2011
ERIM Research Clinic: Executive Compensation
ERIM Research Clinic | Finance

---

Apr 13, 2011
Indexing Executive Compensation Contracts
ERIM Research Seminar | Finance

---

Aug 17, 2010
The Use of Credit Default Swaps by U.S. Fixed-Income Mutual Funds
ERIM Research Seminar | Finance

---

May 28, 2010
Executive Compensation and Corporate Governance
Conference | Finance

---

May 17, 2010
ERIM Research Clinic: Executive Compensation
ERIM Research Clinic | Finance

---

Oct 29, 2009
ERIM's Second Lustrum: 'Dual impact of management research'
ERIM Institute Event |

---

May 27, 2009
"Capping CEO pay"
ERIM Research Seminar | Finance

---

Jan 16, 2009
The Structure and Level of Executive Pay
ERIM Inaugural Address Research in Management Series | Finance

---

Jun 23, 2008
The Cost of Active Investing
ERIM Research Seminar | Finance

---

Jun 17, 2008
Depression Babies: Do Macroeconomic Experiences Affect Risk-Taking?
ERIM Research Seminar | Finance

---

Jun 3, 2008
Financial Crises and Bank Liquidity Creation
ERIM Research Seminar | Finance

---

May 27, 2008
The Impact of Split Ratings on Bond Yields
ERIM Research Seminar | Finance

---

May 6, 2008
Deduction Ad Absurdum: CEOs Donating their Own Stock to their Own Family Foundations
ERIM Research Seminar | Finance

---

Apr 29, 2008
Dispersion in Analysts' Earnings Forecasts and Credit Rating
ERIM Research Seminar | Finance

---

Apr 24, 2008
Characteristics of Observed Demand and Supply Schedules for Individual Stocks
ERIM Research Seminar | Finance

---

Apr 22, 2008
The Design of Syndicates in Venture Capital
ERIM Research Seminar | Finance

---

Apr 15, 2008
The Role of the Business Press as an Information Intermediary
ERIM Research Seminar | Finance

---

Apr 8, 2008
Information Risk and Capital Structure
ERIM Research Seminar | Finance

---

Apr 1, 2008
Arranger Certification in Project Finance
ERIM Research Seminar | Finance

---

Mar 11, 2008
Shareholder Cross-holdings and their Effect on Acquisition Decisions
ERIM Research Seminar | Finance

---

Mar 4, 2008
Loan Origination under Soft- and Hard-Information Lending
ERIM Research Seminar | Finance

---

Feb 19, 2008
Investor Heterogeneity, Aggregation, and the Non-Monotonicity of the Aggregate Marginal Rate of Substitution in the Price of Market-Equity
ERIM Research Seminar | Finance

---

Dec 12, 2007
The Price of Market Volatility Risk
ERIM Research Seminar | Finance

---

Dec 4, 2007
Direct Evidence of Dividend Tax Clienteles
ERIM Research Seminar | Finance

---

Nov 27, 2007
Earnings Thresholds and Market Responses
ERIM Research Seminar | Finance

---

Nov 20, 2007
The Added Value of Rating Outlooks and Rating Reviews to Corporate Bond Ratings
ERIM Research Seminar | Finance

---

Nov 13, 2007
An Analysis of Flipping Activity in Early Aftermarket Trading
ERIM Research Seminar | Finance

---

Nov 6, 2007
Information Asymmetries, Common Factors, and International Portfolio Choice
ERIM Research Seminar | Finance

---

Oct 30, 2007
Large Shareholders and Corporate Policies
ERIM Research Seminar | Finance

---

Oct 23, 2007
International Portfolio Diversification: Currency, Industry and Country Effects Revisited
ERIM Research Seminar | Finance

---

Oct 9, 2007
Cross-Section of Option Returns and Volatility
ERIM Research Seminar | Finance

---

Oct 2, 2007
Aggregate Earnings and Asset Prices
ERIM Research Seminar | Finance

---

Sep 27, 2007
Construction and Interpretation of Model-Free Implied Volatility
ERIM Research Seminar | Finance

---

Sep 17, 2007
Has New York Become Less Competitive in Global Markets? Evaluating Foreign Listing Choices over Time
ERIM Research Seminar | Finance

---

Jun 8, 2007
Where are the Shareholders' Mansions? CEOs' Home Purchases, Stock Sales, and Subsequent Company Performance
ERIM Research Seminar | Finance

---

May 29, 2007
Capital Expenditures, Financial Constraints, and the Use of Options
ERIM Research Seminar | Finance

---

May 22, 2007
Credit Market Constraints and Financial Networks in Late Victorian Britain
ERIM Research Seminar | Finance

---

May 15, 2007
Testing Portfolio Efficiency with Non-Traded Assets: Taking into Account Labor Income, Housing and Liabilities
ERIM Research Seminar | Finance

---

May 8, 2007
Regularities
ERIM Research Seminar | Finance

---

Apr 24, 2007
Do Private Equity Investors Take Firms Private for Different Reasons?
ERIM Research Seminar | Finance

---

Apr 18, 2007
Economic Links and Predictable Returns
ERIM Research Seminar | Finance

---

Mar 27, 2007
Decisions and Errors
ERIM Research Seminar | Finance

---

Mar 20, 2007
The Global Price of Market Risk and Country Inflation
ERIM Research Seminar | Finance

---

Mar 13, 2007
Financing Firms in India
ERIM Research Seminar | Finance

---

Mar 12, 2007
Agency Problems at Dual-Class Companies
ERIM Research Seminar | Finance

---

Mar 6, 2007
Knowhow, Core Competencies, and the Choice Between Merging, Allying, and Buying Assets
ERIM Research Seminar | Finance

---

Feb 27, 2007
Returns to Shareholder Activism Evidence from a Clinical Study of the Hermes U.K. Focus Fund
ERIM Research Seminar | Finance

---

Feb 20, 2007
The Dynamics of Large and Small Chapter 11 Cases: An Empirical Study
ERIM Research Seminar | Finance

---

Dec 19, 2006
Capital Budgeting vs. Market Timing: An Evaluation Using Demographics
ERIM Research Seminar | Finance

---

Dec 19, 2006
Superstar CEOs
ERIM Research Seminar | Finance

---

Dec 12, 2006
Analysts' Earnings Forecasts in Emerging Markets: A Combination Between Company Specifics and Macro Economics
ERIM Research Seminar | Finance

---

Dec 5, 2006
Deal or No Deal? Decision Making Under Risk in a Large-Payoff Game Show
ERIM Research Seminar | Finance

---

Nov 28, 2006
Buisiness Groups, Taxes and Accruals Management
ERIM Research Seminar | Finance

---

Nov 21, 2006
Commonality in Returns, Liquidity, and Trading Volume around the World
ERIM Research Seminar | Finance

---

Nov 14, 2006
The Impact of Corporate Taxation on Firms' Payout Choices
ERIM Research Seminar | Finance

---

Oct 31, 2006
Judge Specific Differences in Chapter 11 and Firm Outcomes
ERIM Research Seminar | Finance

---

Oct 24, 2006
Open Market Share Reaquisitions, Surplus Cash, and Agency Problems
ERIM Research Seminar | Finance

---

Oct 17, 2006
SMEs, FDI and Capital Market Imperfections
ERIM Research Seminar | Finance

---

Oct 10, 2006
Term Structure of Real Rates and Expected Inflation
ERIM Research Seminar | Finance

---

Oct 2, 2006
Insider Trading Legislation and Acquisition Announcements: Do Laws Matter?
ERIM Research Seminar | Finance

---

Sep 26, 2006
Disciplining and Screening Top Executives
ERIM Research Seminar | Finance

---

Sep 19, 2006
Sex Matters: Gender and Mutual Funds
ERIM Research Seminar | Finance

---

Sep 12, 2006
Fund Managers Who Take Big Bets: Skilled or Overconfident
ERIM Research Seminar | Finance

---

Jun 20, 2005
Lower salaries and no options? The optimal structure of executive pay
ERIM Research Seminar | Finance

---
Visiting address
Office: H14-23
Burgemeester Oudlaan 50
3062 PA

,

Rotterdam
Netherlands
Postal address
Postbus 1738
3000 DR

,

Rotterdam
Netherlands