J.C.M. (Jan) van den Ende
Full Professor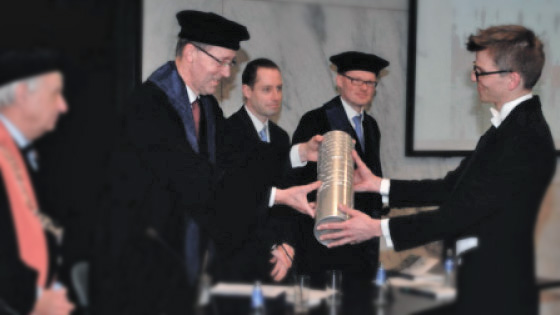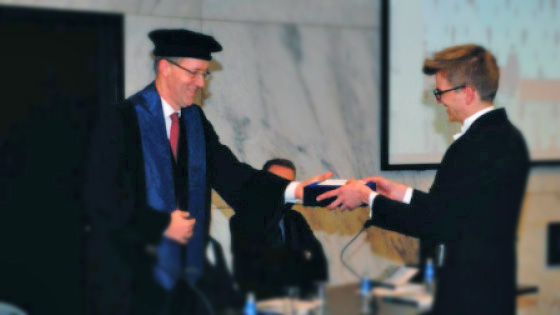 Professor of Management of Technology and Innovation
Programme:

Logistics & Information Systems
ERIM Membership:

Fellow ERIM, affiliated since 1999
ERIM Role(s):

Member ERIM Funding Advisory Board (FAB) (since 2012)
Profile
Jan van den Ende is a professor of management of technology and innovation at Rotterdam School of Management, Erasmus University (RSM) and holds the International Chair of Management, LUISS Universita Guido Carli, Rome, Italy.
His field of expertise is the development process of new products and services in firms. His current research interests include firm-internal and -external idea management, control of NPD projects, design management and sustainable innovation.
Jan van den Ende has published in numerous journals including Journal of Management Studies, Organization Studies, Harvard Business Review, Journal of Product Innovation Management, Research Policy, IEEE Transactions on Engineering Management, and Group and Organization Management.
He teaches in MBA and Executive Education for firms such as ASML, FrieslandCampina, IFF and MAN. Van den Ende holds a PhD from Delft University of Technology.
Work in progress

(2)
Kaa, G. van de, Vries, H.J. de & Ende, J. van den (2015). Strategies in network industries: the importance of inter-organizational networks, complementary goods, and commitment. Technology Analysis and Strategic Management.
Akin, M., Ende, J. van den & Ianniello, G. (2014). Inter-organizational Coordination Patterns in Buyer-Supplier-Design Agency Triads in NPD Projects. International Journal of Operations and Production Management.
Recognitions

(12)
Editorial position

(7)

Journal
IEEE Transactions on Engineering Management
Role
Ad Hoc Reviewer
Start date
01-01-2007

---

Journal
Journal of Management Studies
Role
Ad Hoc Reviewer
Start date
01-01-2009

---

Journal
The Journal of Product Innovation Management
Role
Ad Hoc Reviewer
Start date
01-01-2003

---

Journal
The Journal of Product Innovation Management
Role
Editorial Board
Start date
01-09-2011

---

Journal
Research Policy
Role
Ad Hoc Reviewer
Start date
01-01-2003

---

Journal
Technology Analysis & Strategic Management
Role
Ad Hoc Reviewer
Start date
01-01-2002

---

Journal
Service Business
Role
Editorial Board
Start date
01-01-2012

---

Organisation membership

(1)

Organisation
Academy of Management
Role
Member
Start date
01-01-1998

---

Side position

(4)

Name organisation
NWO, Netherlands Organisation for Scientific Research
Role
Secretary of NWO Preparatory Committee of the NWO Priority Research Program on Innovation
Start date
01-05-2007
End date
01-06-2009

---

Name organisation
Faculty of Economics, University G. d'Annunzio, Pescara, Italy.
Role
Member of the Scientific Committee of the PhD program
Start date
01-01-2008

---

Name organisation
Freeband Research Programme
Role
Member of the General Assembly
Start date
01-07-2004
End date
01-10-2008

---

Name organisation
Dutch Association for Business Development (Vereniging Business Development Nederland)
Role
Executive Academic Relations
Start date
01-05-2009

---
Events

(20)
Jun 26, 2014
Self-fulfilling Prophecies In Social Networks: Motivation, Cognition and Network Dynamics
ERIM Research Seminar | Business Processes

---

May 28, 2013
Turning Public into Private: How Local Social Capital Amplifies Entrepreneurs? Network for Innovation
ERIM Research Seminar | Business Processes

---

May 23, 2013
Integrating problem solvers from analogous markets in new product ideation
ERIM Research Seminar | Business Processes

---

Apr 25, 2013
Revisiting Service Quality Through the Lens of Experience-Centric Services
ERIM Research Seminar | Business Processes

---

Dec 13, 2012
Renewal, Reuse and Reinforcement: Building capability to enter, grow and shape the nascent market for integrated sustainable urban solutions
ERIM Research Seminar | Strategy & Entrepreneurship

---

Sep 27, 2012
How do You Benefit from the Reputation of Your Team Members? A Role-theoretical Perspective on Reputation Spillovers in Danish Film
ERIM Research Seminar | Business Processes

---

Feb 3, 2012
Innovation in Cultural Industries
ERIM Research Seminar | Business Processes

---

Jun 21, 2011
Exploring the Evolution of Scientific Networks of Biotechnology Firms
ERIM Research Seminar | Business Processes

---

Feb 12, 2009
Continuity in Project-Based Organizations: Networks, Artifacts, and Roles
ERIM Research Seminar | Entrepreneurship & Innovation (- 2009)

---

Dec 2, 2008
Beyond Structural Savings: Offshoring R&D for Competitive Advantage
ERIM Research Seminar | Entrepreneurship & Innovation (- 2009)

---

Sep 18, 2008
Organizing Innovation
ERIM Inaugural Address Research in Management Series | Entrepreneurship & Innovation (- 2009)

---

May 26, 2008
An Empirical Analysis of Distributed Organization of Technology Projects: Within and Between Firms and National Boundaries
ERIM Research Seminar | Entrepreneurship & Innovation (- 2009)

---

Dec 14, 2007
Extending Media Richness Theory to Inter-Organizational Relationships: The Choice of Communication Mode in Alliances
ERIM Research Seminar | Entrepreneurship & Innovation (- 2009)

---

Oct 19, 2007
Planning for Risk or Planning for Performance? Managing Resource Requirements and Coordination Concerns in Technology Alliance Agreements
ERIM Research Seminar | Entrepreneurship & Innovation (- 2009)

---

May 11, 2007
Legitimizing Illegitimacy: Identity Spaces and Markets for Illegitimate Products
ERIM Research Seminar | Entrepreneurship & Innovation (- 2009)

---

Jan 26, 2007
What Slows Rework Down: Causes for Low Problem-Solving Efficiency in Complex Product Development
ERIM Research Seminar | Entrepreneurship & Innovation (- 2009)

---

Oct 6, 2006
Modularization as a Strategy and its Implications for New Product Development and Supply Chain Management
ERIM Research Seminar | Logistics

---

Jun 20, 2006
Configuring Capabilitites for Integrated Solutions: Evidence from the IT Sector
ERIM Research Seminar | Entrepreneurship & Innovation (- 2009)

---

Jun 20, 2006
A Dialectical Model of Organizational Loose Coupling: Strategy, Modularity, and Innovation
ERIM Research Seminar | Entrepreneurship & Innovation (- 2009)

---

Oct 10, 2005
The Construction of Knowledge Transfer Amongst Dispersed Corporate Spaces (Knowledge Integration and Differentiation in Offshore Platform Design)
ERIM Research Seminar | Entrepreneurship & Innovation (- 2009)

---
Visiting address
Office: T10-53
Burgemeester Oudlaan 50
3062 PA

,

Rotterdam
Netherlands
Postal address
Postbus 1738
3000 DR

,

Rotterdam
Netherlands