M.A. (Mathijs) van Dijk
"Research improves our understanding of financial markets"
Endowed Professor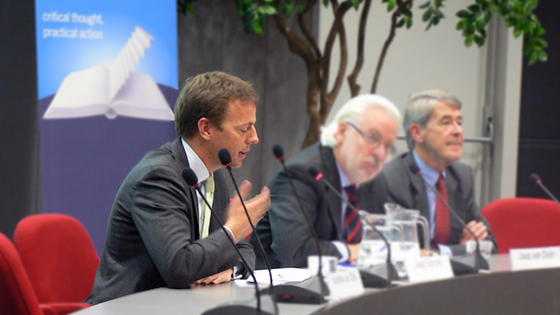 Business administration, with particular reference to financial markets
Programme:

Finance & Accounting
ERIM Membership:

Fellow ERIM, affiliated since 2002
ERIM Role(s):

Member ERIM Programme Advisory Committee (PAC) (since 2013)
Member ERIM Funding Advisory Board (FAB) (since 2012)
Profile
Mathijs A. van Dijk (personal website for recent working papers, data, etc.) is professor of finance at Rotterdam School of Management, Erasmus University (RSM).

His research focus is international finance and investments. He has published in leading academic journals such as the Journal of Financial Economics, the Journal of Accounting and Economics, and the Review of Finance.

In 2008, he received a 600,000 euro Vidi-grant from the Netherlands Organisation for Scientific Research (NWO) for a five-year research program on 'liquidity black holes.'

Professor van Dijk has presented his work extensively at international conferences and seminars at academic institutions including, among others, Boston College, Dartmouth, Duke, Harvard, HEC Paris, INSEAD, and UCLA.

He is also a frequent speaker at industry events and has written for practitioner-oriented journals such as the Financial Analysts Journal.

Professor van Dijk has been a visiting graduate student at Warwick Business School and Princeton University and a visiting research scholar at the Ohio State University, Duke University, and UCLA.

He obtained his MSc in Econometrics (cum laude) from Erasmus University and his PhD in Finance from Maastricht University.
Publications

(19)
Book contributions

(3)

Flood, M.D., Koedijk, C.G., Dijk, M.A. van & Leeuwen, I.W. van (2010). Securities Trading, Asymmetric Information, and Market Transparency. In G.N. Gregoriou (Ed.), The Handbook of Trading: Strategies for Navigating and Profiting from Currency, Bond, and Stock Markets (pp. 317-341). McGraw-Hill.
Nguyen, T.T. & Dijk, M.A. van (2009). Corruption and Public Governance: Evidence from Vietnam. In G.N. Gregoriou (Ed.), Emerging Markets: Performance, Analysis and Innovation (Boca Raton) (pp. 693-713). CRC press: Chapman-Hall/Taylor and Francis London, UK.
Koedijk, C.G., Dijk, M.A. van & Leeuwen, I.W. van (2008). The Impact of Inter-Dealer Trading on Market Liquidity Under Asymmetric Information. In Francois-Serge.Lhabitant Greg N. Gregoriou (Ed.), Stock Market Liquidity: Implications for Market Microstructure and Asset Pricing (pp. 267-285). Hoboken: John Wiley & Sons.
Events

(16)
Mar 7, 2014
Symposium The Social Value of Finance
ERIM Conference | Finance

---

Mar 7, 2014
Financial crises reduce life expectancy: Inaugural Address Mathijs van Dijk
ERIM Inaugural Address Research in Management Series | Finance

---

Oct 16, 2013
Finance Brown Bag Seminar by Mathijs van Dijk
ERIM Research Seminar | Finance

---

Oct 3, 2012
Commonality in Market Efficiency
ERIM Research Seminar | Finance

---

Jun 6, 2012
Do Firms Issue More Equity when Markets are More Liquid?
ERIM Research Seminar | Finance

---

Mar 21, 2012
Conference on 'Accounting and Valuation'
Conference | Accounting

---

Jan 24, 2011
ERIM Research Clinic: Liquidity black holes
ERIM Research Clinic | Finance

---

Dec 3, 2009
Information Markets, Analysts and Comovement in Stock Returns
ERIM Research Seminar | Finance

---

Jun 26, 2009
Second Erasmus Liquidity Conference
Conference | Finance

---

Jun 18, 2009
Corruption and Growth: Private vs. State-owned Firms in Vietnam
ERIM Research Seminar | Finance

---

Nov 20, 2008
Journeys with Erasmus: A New Financial World Order
Journeys with Erasmus Lecture | Finance

---

Jun 27, 2008
Liquidity Conference 2008
Conference | Finance

---

Mar 21, 2007
The Accrual Anomaly: Risk or Mispricing?
ERIM Research Seminar | Finance

---

Nov 21, 2006
Commonality in Returns, Liquidity, and Trading Volume around the World
ERIM Research Seminar | Finance

---

May 20, 2005
Finance Symposium 'Cross Listings'
ERIM Research Seminar | Finance

---

Sep 16, 2003
The Limits of Arbitrage: Evidence from Dual-Listed Companies
ERIM Research Seminar | Accounting

---
PhD Vacancy

(1)
Risks and rewards play a pivotal role in theoretical and empirical research in financial markets. One of the fundamental concepts of asset pricing is that investors are rewarded for bearing risk, through higher expected returns, but that only particular, aggregate and non-diversifiable, sources of risk are priced by the market. Establishing risk factors and identifying to what extent they are priced is a key challenge, and a very active area of research.
In this project, which is an umbrella for several potential projects, a number of alternative research problems are collected that provide additional insight into the role of risk, information and investor behaviour in financial markets. All projects are of an empirical nature and are exploring the wide range of databases that is available at Erasmus University, including data on international stock prices, institutional ownership, mutual fund and hedge fund performance. Key questions are identified and investigated using appropriate and, where necessary, innovative econometric techniques. The first year of the project will be used to get acquainted with potential supervisors and to identify concrete research topics. During the entire project, three or four papers will be written, potentially with different supervisors, which jointly constitute the PhD thesis.
---
Visiting address
Office: T09-45
Burgemeester Oudlaan 50
3062 PA

,

Rotterdam
Netherlands
Postal address
Postbus 1738
3000 DR

,

Rotterdam
Netherlands