R. (Remy) Spliet
Erasmus School of Economics
Erasmus University Rotterdam
Member ERIM
Field:
Logistics & Information Systems
Affiliated since 2009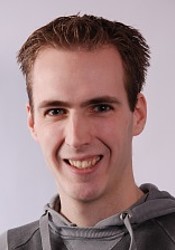 Publications (9)
Articles (8)
Spliet, R., Dabia, S & Woensel, T. (2017). The Time Window Assignment Vehicle Routing Problem with Time Dependent Travel Times. Transportation Science, accepted.
Doctoral Thesis
Spliet, R. (2013, Oktober 18).

Vehicle Routing with Uncertain Demand.

Erasmus University Rotterdam (128 pag.) (Rotterdam: Erasmus Research Institute of Management (PhD Serie 293)). Prom./coprom.: prof.dr.ir. R. Dekker & dr. A.F. Gabor.
---
Address
Visiting address
Office: Tinbergen Building H11-05
Burgemeester Oudlaan 50
3062 PA Rotterdam

Postal address
Postbus 1738
3000 DR Rotterdam
Netherlands