A.R. (Roy) Thurik
Full Professor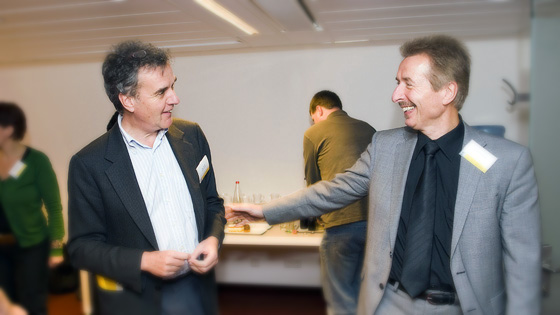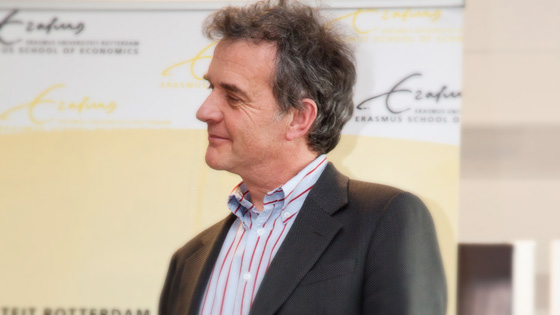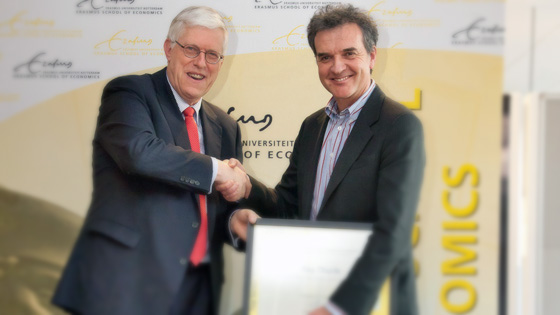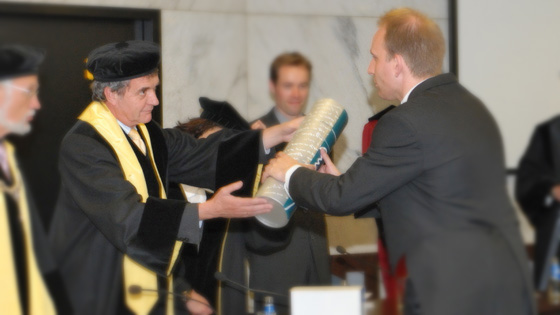 Professor of Economics and Entrepreneurship
Programme:

Strategy & Entrepreneurship
ERIM Membership:

Fellow ERIM, affiliated since 1999
Profile
Roy Thurik is a professor of economics and entrepreneurship at the Erasmus School of Economics (ESE) and a professor of entrepreneurship at the Free University in Amsterdam (VU).

He is scientific advisor at Panteia in the Netherlands, directeur de recherches at GSCM-Montpellier Business School in France and a research fellow at two renowned Dutch research schools: the Tinbergen Institute for Economic Sciences and the Erasmus Research Institute for Management.

Professor Thurik's research focuses on the role of small firms in markets, the role of business owners in firms, industrial organisation and policy, geno-economics, nascent entrepreneurship and the consequences and causes of entrepreneurship in economies.

His research has been published in more than two hundred articles in leading international academic journals. He is (co)-editor of several scholarly books and serves on the editorial boards of many academic journals. He consults regularly for firms and (international) institutions.

Roy's courses include Small Business Economics, Economics of Entrepreneurship and Entrepreneurship and Small Business at EUR, and Economics and Management of SMEs at the Free University Amsterdam. He coordinates the master's program Entrepreneurship and Strategy Economics, the bachelor III major Entrepreneurship and Organization and the campus minor Entrepreneurship in the Modern Economy at ESE. He set up the famous Erasmus Masterclass Entrepreneurship.

For more detailed information see here
Work in progress

(6)
Thurik, A.R. (2013, maart 13). Behaviour and bio-markers: in search of the entrepreneurial gene. Brescia, Università Cattolica del Sacro Cuore, 11th Interdisciplinary Conference on Entrepreneurship Research.
Thurik, A.R. (2013, april 23). Begrijpen we nog wel wat goed ondernemerschap is? Kamer van Koophandel Rotterdam, Rotterdam, Willen we nog steeds een ondernemende samenleving?.
Thurik, A.R. & Praag, C.M. van (2012). Canon deel 4: ondernemerschap. Economisch-Statistische Berichten, 97(4644), 580-583.
Hoogendoorn, B., Zwan, P.W. van der & Thurik, A.R. (2013). "If it has to be, it is up to me": A multi-level approach to social entrepreneurial efforts. (Research Report H201303). Zoetermeer: Panteia/EIM.
Rietveld, C.A., Kippersluis, J.L.W. van & Thurik, A.R. (2013). Self-Employment and Health: Barriers or Benefits? (TI Discussion Paper 13-129). Amsterdam: Tinbergen Institute.
Thurik, A.R., Carree, M.A., Stel, A.J. van & Audretsch, D.B. (2011). Does self-employment reduce unemployment? In S.C. Parker (Ed.), Entrepreneurship in recession (International Library of Entrepreneurship Series). Cheltenham: Edward Elgar Publishing.
Recognitions

(16)
Editorial position

(12)

Journal
Entrepreneurship Theory and Practice
Role
Editorial Board

---

Journal
The Service Industries Journal
Role
Editorial Board

---

Journal
Small Business Economics
Role
Associate Editor

---

Journal
International Review of Retail, Distribution and Consumer Research
Role
Editorial Board

---

Journal
Journal of Marketing Channels
Role
Editorial Board

---

Journal
International Journal of Entrepreneurship Education
Role
Member Editorial Board
Start date
01-01-2001
End date
31-12-2008

---

Journal
Journal of Small Business and Enterprise Development
Role
Editorial Board

---

Journal
International Entrepreneurship and Management Journal
Role
Editorial Board

---

Journal
Foundations and Trends in Entrepreneurship
Role
Member Editorial Board

---

Journal
International Review of Entrepreneurship
Role
Editorial Board
Start date
01-01-2009

---

Journal
Entrepreneurship Research Journal
Role
Editorial Board
Start date
01-01-2010

---

Journal
International Journal of Management Science and Information Technology
Role
Editorial Board
Start date
01-01-2011

---

Side position

(4)

Name organisation
Panteia, Zoetermeer, NL
Role
Scientific Advisor
Start date
01-02-1993
Wage earning
ja

---

Name organisation
GSCM-Montpellier Business School, France
Role
Visiting Professor
Start date
01-07-2010
Wage earning
ja

---

Name organisation
Free University Amsterdam, NL
Role
Part-time Professor
Start date
01-01-2000
Wage earning
ja

---

Name organisation
German Institute for Economic Research, Berlin, D
Role
Member scientific advisory board
Start date
01-12-2010
End date
30-11-2014
Wage earning
nee

---
Visiting address
Office: H12-26
Burgemeester Oudlaan 50
3062 PA

,

Rotterdam
Netherlands
Postal address
Postbus 1738
3000 DR

,

Rotterdam
Netherlands