R.H.G.M. (Ruben) Cox
Erasmus School of Economics
Erasmus University Rotterdam
Associate Member ERIM
Field:
Finance & Accounting
Affiliated since 2009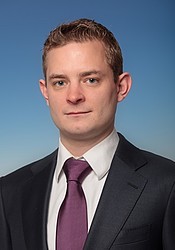 Ruben Cox is an Assistant Professor of Finance at the Erasmus School of Economics (ESE).
Ruben specializes in (consumer) behavioral finance, regulatory disclosure and (financial) advertising and real estate finance.
Ruben combines his appointment at ESE with that of Senior Supervision Officer and Project Manager at the Dutch Authority for the Financial Markets (AFM). AFM supervises conduct on financial markets and Ruben was part of the Capital Markets division, prior to joining the Expert-team in (Consumer) Financial Behavior. He has been involved with redesigning and implementing supervision-strategies incorporating behavioral economic principles.
His research is published in Real Estate Economics, Urban Studies and Journal of Real Estate Finance and Economics. He presented at a number of international meetings, including the FMA, AREUEA and ARES conferences and gave speeches at the Ministry of Finance and Dutch Central Bank.
He teaches corporate finance and valuation and has taught a variety of courses on behavioral finance, real estate finance, and research methods.
Publications (16)
Professional Publications (10)
R.H.G.M. Cox & P.C. de Goeij (2017). Gedragseffecten van investeringsreclames en de rol van de toezichthouder. Economisch-Statistische Berichten, 102 (4746), 92-94.

R.H.G.M. Cox & J.C.C. Cloe-de Vos MSc (2017). Gedragseconomische aspecten bij de ontwikkeling, informatieverstrekking en distributie van financiële producten. Tijdschrift voor Compliance, 2017-3, 157-160. doi: https://denhollander.info/artikel/14367

R.H.G.M. Cox (2013). Rubriek promotie: samenvatting proefschrift. Economisch-Statistische Berichten, 98 (4669), 596-596.

R.H.G.M. Cox (2013). Risicomanagement in de Nederlandse woningmarkt. Economisch-Statistische Berichten, 98 (4674/4675), 769-771.

R.H.G.M. Cox & D.M. De Jong-Tennekes (2012). Hypotheek verzekeren of niet? Gedragseconomische factoren. In Real Estate Research Quarterly (pp. 6-13)

R.H.G.M. Cox, D. Brounen & P. Neuteboom (2011). Financiele onderlegdheid en hypotheekkeuze van huishoudens. Economisch-Statistische Berichten, 96 (4614), 458-459.

P. Neuteboom, D. Brounen & R.H.G.M. Cox (2011). De meerwaarde van het eigenwoningbezit. Economisch-Statistische Berichten, 95 (4597).

R.H.G.M. Cox (2010). Hypotheekregulering en de impact voor koopstarters. Economisch-Statistische Berichten, 95 (4579), 685-686.
Semi Scientific Publications
R.H.G.M. Cox (2014, april 3). Kijk ook naar toekomst bij financiën. Financieel Dagblad
Other Output
R.H.G.M. Cox (interview) (2013, sep 05). Effecten van eigenwoningbezit. [radio-uitzending]. In De Ochtendspits. BNR Nieuwsradio.
PhD Projects (1)

Role: PhD Candidate
PhD Candidate: Ruben Cox
Time frame: 2009 - 2013
---
Address
Visiting address
Office: Tinbergen Building H14-25
Burgemeester Oudlaan 50
3062 PA Rotterdam

Postal address
Postbus 1738
3000 DR Rotterdam
Netherlands