prof.dr. S. (Stefano) Puntoni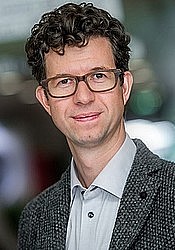 Full Professor
Rotterdam School of Management (RSM)
Erasmus University Rotterdam
Stefano Puntoni is a professor of marketing at Rotterdam School of Management, Erasmus University (RSM).
Stefano joined RSM after completing a PhD in marketing at London Business School. His research has appeared in many leading journals, including the Journal of Consumer Research, the Journal of Marketing Research, and Management Science, and has been featured in media outlet such as Harvard Business Review, The Times, and the Wall Street Journal.
Most of his ongoing research investigates how new technology is changing consumption and society, with a focus on automation, Artificial Intelligence, and the general topic of technological unemployment. He is a former MSI Young Scholar, a current MSI Scholar, and the winner of several grants and awards, including a Marie Curie Fellowship from the European Commission. He is currently an Associate Editor at both the Journal of Consumer Research and the Journal of Consumer Psychology, the two leading academic journals on consumer decision making.
Stefano teaches in the areas of marketing strategy, brand management, and decision making. He has taught at Lancaster University, London Business School, Bocconi University, and the American University in Cairo. The Financial Times named him a "Professor to Watch".
Publications (39)
Articles (31)
B. de Langhe & S. Puntoni (2015). Bang for the buck: Gain-loss ratio as a driver of judgment and choice.

Management Science, 61

(5), 1137-1163. doi:

10.1287/mnsc.2014.2045

B. de Langhe, S.M.J. van Osselaer, S. Puntoni & D. Fernandes (2012). Can you feel it? Emoties adverteren en meten in een vreemde taal. Ontwikkelingen in het Marktonderzoek / Jaarboek MOA, 2012 (4), 59-74.

S.T.L.R. Sweldens, S. Puntoni, J. Kruger & M. Vissers (2012). The Bias in the Bias: Socially Desirable Responding in Comparative Optimism. In Advances in Consumer Research

S. Puntoni (2011). The color pink is bad for fighting breast cancer. Harvard Business Review, 89 (7/8), 30-31.

S.T.L.R. Sweldens, S. Puntoni & N.T. Tavassoli (2009). Gender Identity Salience and Perceived Vulnerability to Breast Cancer. In A.L. McGill & S. Shavitt (Eds.), Advances in Consumer Research (pp. 667)

S.T.L.R. Sweldens, S. Puntoni & N.T. Tavassoli (2007). At Your Own Risk: The Influence of Self-Identity on Perceived Vulnerability to Identity-Specific Risks. In D. Lerman & D. Luna (Eds.), Proceedings of the Society for Consumer Psychology (pp. 230-231)

S. Puntoni & N.T. Tavassoli (2005). Motivational Influences of Social Context on Consumer Behavior. In Advances in Consumer Research (pp. 280-282)

T. Ambler, F. Kokkinaki & S. Puntoni (2004). Assessing Marketing Performance: Reasons for Metrics Selection. Journal of Marketing Management, 20 (2), 94-110.

S. Puntoni (2002). Towards a Framework for Understanding Consumer Acceptance of Pricing Systems in an Online Shopping Environment. Finanza Marketing e Produzione, 20 (2), 94-110.

S. Puntoni (2001). Self-Identity and Purchase Intention: An Extension of the Theory of Planned Behavior. In European Advances in Consumer Research (pp. 130-134)
Book Contributions
T. Ambler & S. Puntoni (2003). Measuring marketing performance. In Susan Hart, ed. (Ed.), Marketing Changes (pp. 289-352). London: International Thompson Business Press
Inaugural Speech
S. Puntoni (2015).

Embracing Diversity.

(2015, maart 13). Rotterdam: Erasmus Research Institute of Management
Professional Publications (6)
A.S.I. Lenoir, S. Puntoni, A. Reed & P.W.J. Verlegh (2015). Het targeten van etnische minderheden: de ene generatie is de andere niet. In A.E. Bronner, P. Dekker, E. de Leeuw, L.J. Paas, K. de Ruyter, A. Smidts & J.E. Wieringa (Eds.), Ontwikkelingen in het marktonderzoek, Jaarboek MarktOnderzoekAssociatie (pp. 65-78). Haarlem: Spaar en Hout
Recognition (1)
Side positions
Lancaster University

Visiting Professor
Courses (4)
---
Past
Current Topics in Marketing Research (2018/2019, 2017/2018)
ERIM Research Clinic Marketing (2017/2018)
Marketing Strategy (2017/2018)
PhD Vacancy (1)
The marketing group at Rotterdam School of Management, Erasmus University seeks highly motivated PhD students looking to study topics in consumer behaviour, marketing science, and consumer neuroscience. Strong applicants typically have backgrounds in psychology, economics, business, statistics, neuroscience, or computer science, and are looking to pursue careers as world-class academic researchers. Students define and execute their own projects in consultation with their advisers, and thus need creativity, self-direction, and a passion for scientific research.
Read more
---
Address
Visiting address
Office: Mandeville Building T10-21
Burgemeester Oudlaan 50
3062 PA Rotterdam
Postal address
Postbus 1738
3000 DR Rotterdam
Netherlands