dr. T.W. (Thomas) Frick MSc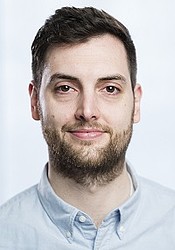 Rotterdam School of Management (RSM)
Erasmus University Rotterdam
Former
ERIM PhD Candidate
Field:
Logistics & Information Systems
Affiliated since 2013
Thomas Frick is a PhD candidate in the Department of Technology and Operations Management at Rotterdam School of Management. His research lies in the intersection of information systems and marketing. Within his dissertation he focuses on advertising personalization and its implications for firms, consumers, as well as advertising platforms.
Thomas holds a Bachelor of Science in Business Administration from LMU Munich and a Master of Science in Business Information Management from Rotterdam School of Management. Thomas has working experience within the telecommunications and consulting industry where he mostly focused on analytical topics.
---
PhD Track The Implications of Advertising Personalization for Firms, Consumers, and Ad Platforms
The personalization of advertising offers firms tremendous potential. If done right, firms can address consumers with more relevant ads, leading to more positive consumer responses. Nevertheless, firms are struggling with how to design personalization strategies and face the challenge to correctly assess advertising effectiveness. With this research, we advance the understanding of advertising personalization and its implications for firms, consumers, and ad platforms.
With the help of a large-scale field experiment, we present evidence for how firms should design their personalization strategies. We find that high levels of personalization specificity pay off for firms. At the same time, socially targeting personalized ads, where names of consumers' friends are included in the ad text, leads to less positive consumer responses.
To advance the understanding of privacy concerns in advertising personalization, we conduct a lab experiment using eye tracking technology. Our findings reveal that firms cannot use intrusive ads, that cause privacy concerns, to attract consumers' attention. Such a strategy is harmful as it decreases consumers' overall attention towards ads, eventually leading to less positive consumer responses.
An examination of contracts between firms and ad platforms exposes that these contracts might not be in the economic interest of firms. We conduct a large field experiment and our analysis reveals that currently implemented contracts between ad platforms and firms lead to an incentive misalignment that is harmful for firms. While ads generally increase consumers' likelihood to purchase, firms pay more for ads that are not providing higher value to them.
Keywords

Advertising Personalization, Advertising Effectiveness, Digital Advertising, Privacy Concerns, Social Targeting, Informational Social Influence Social Advertising, Eye Tracking, Consumer Attention, Programmatic Advertising, Ad Auctions, Incentive Misalignment

Time frame

2013 - 2018
Publications (11)
Articles (10)
T.W. Frick & Ting Li (2016). Social Retargeting: A Field Experiment. In Statistical Challenge in eCommerce Research Symposium (SCECR)

T.W. Frick & Ting Li (2016). Social Retargeting: A Field Experiment. In The Economics of Information and Communication Technologies, ZEW Conference. Centre for European Economics Research

T.W. Frick, Ting Li & P. Pavlou (2016). Investigating The Impact Of Social Influence On The Personalization-Privacy Paradox: An Eye Tracking Study. In INFORMS 2016. Nashville

T.W. Frick & T. Li (2015). Social Retargeting – A Randomized Field Experiment. In 37th ISMS Marketing Science Conference

T.W. Frick & T. Li (2015). Understanding Information Privacy Concerns in Social Advertising: An Eye Tracking Study. In 37th ISMS Marketing Science Conference

T.W. Frick, D. Tsekouras & Ting Li (2014). For Whom, How, and Where? Examining the Relationship between Social Media and Music Album Performance. In Tenth Symposium on Statistical Challenges in eCommerce Research (SCECR 2014). Tel Aviv, Israel

T.W. Frick, D. Tsekouras & T. Li (2014). The Times They Are A-Changin:Examining the Impact of Social Media on Music Album Performance. In Annual Meeting of the Academy of Management. Philadelphia, US

T.W. Frick & D. Tsekouras (2013). The Times They Are A-Changin: Examining the Impact of Social Media on Music Album Sales and Piracy. In 7th ICT Conference Paris on The Economics of Information and Communications Technologies
Event (1)
PhD Defence
As: Speaker, Contact
---
Address
Visiting address
Office: Mandeville Building T09-08
Burgemeester Oudlaan 50
3062 PA Rotterdam
Postal address
Postbus 1738
3000 DR Rotterdam
Netherlands