X. (Xin) Zhou MSc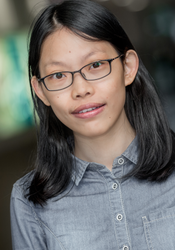 Rotterdam School of Management (RSM)
Erasmus University Rotterdam
Xin Zhou is a first-year PhD candidate in Marketing Management at Rotterdam School of Management. Her research interest is quantitative marketing. She is generally interested in consumer behavior and firm's strategies in the digital marketing world. Specifically, she focuses on online product reviews, recommendation system and search engine optimization.
Xin Zhou holds an Master degree in Management from Wuhan University, China(2015) and a Bachelor degree in Statistics from Nankai University, China(2010).
---
PhD Track E-commerce success: traffic, bouncing and conversion
Attracting Internet traffic and converting it into purchases is one of the most common challenges faced by online retailers. Some visitors immediately abandon the website without making any clicks (i.e., they "bounce"). Others exit at a later point without making a purchase. Only a few make a purchase (a "conversion"). Ideally, an online retailer would like to maximize traffic to its store, minimize bouncing behavior and maximize conversion rate. However, an optimal policy to achieve one of these objectives may not be optimal for the other objectives. We will expand an existing family of methods to maximize conversion called Website Morphing, which changes the look and feel of a website to match visitors' preferences, and thus improve click-through rate or conversion rate. In this research, we use a morph to denote a website design. For example, some websites have much content, while others have little content, some have a free-form layout while others have a grid layout, etc. Throughout the operations of website morphing, our beliefs as to the effectiveness of these morphs in attracting traffic, preventing bouncing and increasing conversion are continually updated.
However, this problem faced by online retailers is still challenging beyond website morphing, in that it involves traffic, bouncing and conversion. First, website morphing is generally an in-store operation, as changes are made in-store. However, in the context of online retailers, changes in store can exert its influence on traffic through website ranking on search engines. Second, instead of learning only the conversion probabilities as described in previous published morphing papers, in this research there are two probabilities that need to be learned about each morph: the probability of bouncing and the probability of conversion, which adds further challenge to traditional website morphing. In this research we will develop a comprehensive model that addresses traffic, bouncing behavior and conversion.
Keywords

website morphing, multi-armed bandit problems, filed experiments, conversion funnel, search engines

Time frame

2015 -
---
Address
Visiting address
Office: Mandeville Building T10-10
Burgemeester Oudlaan 50
3062 PA Rotterdam
Postal address
Postbus 1738
3000 DR Rotterdam
Netherlands