I know why I sell: How successful marketers understand and influence the behaviour of customers
---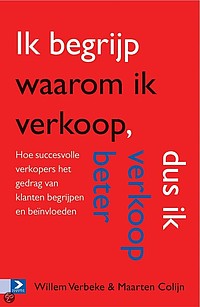 I know why I sell: How successful marketers understand and influence the behaviour of customers
Successful sellers must constantly work on improving their social intelligence. Not an easy task, but everyone can learn it, claim authors, Professor dr. Willem Verbeke of Erasmus School of Economics Rotterdam and co-owner of Professional Capital and Drs. Maarten Colijn, co-founder and Managing Director of Professional Capital. They demonstrate how successful vendors develop their social intelligence and how we can get the hang of it, too. They make use of scientific insights from biology, psychology and social neuroscience. The theory is illustrated by numerous anecdotes from everyday life, combined with practical tips that will make you better understand and more effectively influence customers.
"Ik weet waarom ik verkoop, dus verkoop ik beter" ("I know why I sell, therefore I sell better") gives scholars in business economics what they want: a blend of theory and practice. Having trained more than 5000 salespeople from over 400 organizations and published many articles on the biology of selling (based on fMRI, EEG, genetic and endocrinological evidence) Willem Verbeke and Maarten Colijn are well qualified to give the wanted blend of practical and theoretical insights.
The book starts off by asking a simple question, "Can people learn to sell?" The answer is yes, of course, given the widespread evidence that firms invest huge amounts in sales training. However, the real question is "What do salespeople actually learn at sales training courses?" Our answer is that they develop their social intelligence. Then the question becomes, "What is social intelligence?"
Humans, namely Homo sapiens, are a species of animal and just like other species humans are social animals. People function best in groups, not as "selfies" and belonging to a group is a basic human need. We are typically motivated to belong to many different groups. Thriving – doing well – in different groups demands an advanced level of social intelligence.
This book explains the various dimensions of social intelligence. The focus is on group behaviour, on how people synchronize, the role of attachment styles, how people form networks in organizations and how people understand each other. Most important, social intelligence needs constant improvement and this takes willpower.
"Ik weet waarom ik verkoop, dus verkoop ik beter" is a book especially for practitioners; indeed practitioners should learn about our research at the university.
For more information