EFC - ECSP Summer Academy 2015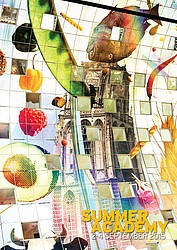 2 - 4 September 2015, Erasmus University Rotterdam
From 2-4 September, a group of 24 enthusiastic staff members from 21 European foundations participated in the annual Summer Academy. We received very positive responses on the program; 96% of the participants would recommend the Summer Academy to a colleague.
Some quotes from the participants:
"Wonderful experience and really useful. Very rich and relevant reading materials."
"I will recommend this Summer Academy to others in the field."
"The sessions have been inspirational, challenging and very well designed. Many thanks for that effort."
More information can be found in the report of the Summer Academy, on the left side of this page.
The Summer Academy is designed for professionals - those newer to the sector, as well as those looking to refresh their skills - from corporate, family and independent foundations. Both programmatic and operational sides of the organization will be discussed through sessions on:
Strategy & impact
Donor-grantee relations
Scaling up & exit-strategies
Risk & risk management
27 - 29 August 2014, Erasmus University Rotterdam
Last year the program opened with an introductory plenary session on personal values, happiness and philanthropy, led by the Erasmus Happiness Economics Research Organization (EHERO). The main program consisted of four modules on: Strategy and Impact Generation, Risk and Risk Management in Foundations, Scaling up: Strategic Choices and the Issues Involved and Increasing Impact and Learning through Experiments.
The program provides an open and safe space for participants to join with peers and academics to exchange experiences and thoughts, discuss dilemmas and develop new ideas. Resources, practical instruments and best practice examples related to the programming of foundation interventions will be discussed, so participants' can return home with many concrete insights on how to improve the effectiveness of their daily work.
The Summer Academy offers an interactive workshop setting, where ECSP provides the academic take on the issues and EFC members contribute from the practitioners' angle. Participants will be involved in a dialogue with academics, visiting practitioners and among themselves, and will have an opportunity to apply new thinking to their daily work. Diana Leat, herself a bridge between the academic and practitioner worlds, moderated the event in 2014.
The program is open to EFC members though limited spaces are available for non-members.
August 27, 2014
Arrival, walk-in lunch and welcome (12.30 hrs)
Introductory session on program outline and goals with Diana Leat
Plenary session: Personal values, Happiness and Philanthropy
Drinks and group dinner with key note speaker
August 28, 2014
Module 1: From Strategy to Impact Generation
Module 2: Risk and Risk Management in Foundations
Drinks and group dinner with key note speaker
August 29, 2014
Module 3: Scaling up: Strategic Choices and the Issues Involved
Module 4: Increasing Impact and Learning through Experiments
Wrap-up session with Diana Leat
Departure (16.00 hrs)