2017: Research recognised at the annual ERIM Awards ceremony
Predicting purchasing, a study of genetics to predict educational attainment, and innovation in companies acquiring status in external networks were among the topics of research recognised at the 16th ERIM Awards ceremony, hosted by the Erasmus Research Institute of Management (ERIM). Academic prizes were awarded for excellence in dissertations and management impact.
Photos Chris Gorzeman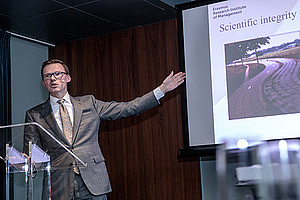 Opening the ceremony on 13 December, Professor Pursey Heugens, Scientific Director of ERIM and RSM's Dean of Research, set the agenda for future, speaking of the foundational values that bind ERIM together as a community of PhD students and researchers. Promoting excellence in management research is the core of ERIM's aspirations, and he gave seven values-based promises that ERIM is to be held accountable for: to facilitate researchers in exploring the best possible ideas that they can muster, to foster the spirit of meritocracy, to assist researchers in remaining productive over the course of their entire academic careers, to nourish the dual scientific and societal impact of management research at EUR, to stand up for the responsible mentoring of PhD students, ERIM members and associate members, to put scientific integrity at the core of everything ERIM does and facilitates, and to make a point of celebrating successes together in the competitive context of contemporary academia.
Professor Huibert Pols, rector magnificus of Erasmus University Rotterdam, presented the ERIM Awards.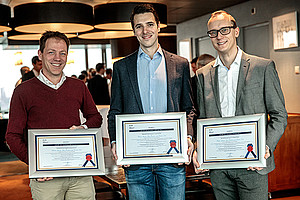 The 2017 Junior Top Article Award was presented to Bruno Jacobs for his article with Bas Donkers and Dennis Fok Model-Based Purchase Predictions for Large Assortments, which was published in Marketing Science. Bruno Jacobs is an ERIM PhD candidate and currently Assistant Professor in Marketing at the Robert H. Smith School of Business, University of Maryland.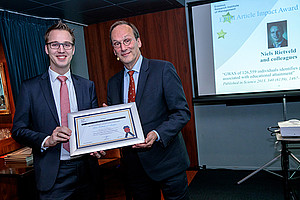 The 2017 Top Article Impact Award is for the article with the most impressive academic impact, and was presented to Niels Rietveld and colleagues for his article "GWAS of 126,559 individuals identifies genetic variants associated with educational attainment" published in Science. Niels Rietveld is Member of ERIM and Assistant Professor at the Department of Applied Economics at ESE. The jury said: "This paper is important because it uses genetics to predict social-economic outcomes. This is innovative, well done and potentially very important for the field. The paper is very well-cited and seems to be extremely impactful.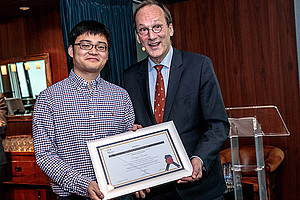 The 2017 Dissertation Award was presented to Pengfei Wang from RSM for his dissertation entitled Innovations, Status and Networks, which examines how companies can acquire status in external networks, and how the effect of this – plus their innovation strategy – affects company performance and behaviour. His supervisor was Prof. Justin Jansen and his co-supervisor was Prof. Vareska van de Vrande. Pengfei Wang is currently Assistant Professor of Strategy and Entrepreneurship at the BI Norwegian Business School. The jury said: "The quality of the research methods presented in the thesis seems to be of exceptional level, taking a longitudinal approach and including sophisticated data analysis techniques. The thesis resulted in a set of top publications, all in top-tier journals, which is admirable considering the length of his academic career. The insights provided by the thesis offers a number of significant avenues for further research, especially in the field of network theory."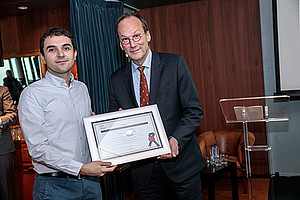 The 2017 ERIM Award for Outstanding Performance by a Young Researcher for ERIM Members or ERIM Associate Members who received their PhD less than five years ago went to Aleksandar Andonov, Member of ERIM and Assistant Professor in the Department of Business Economics at ESE. He researches investments, asset allocation, delegated portfolio management and pension funds as well as empirical asset pricing, alternative assets and governance. The jury said: "Aleksandar Andonov has already been able to publish or have papers accepted in top journals in his field. In addition to working with his thesis advisors he has also been able to develop collaborations with new co-authors, and has already published with them; he has really developed into an independent scholar. He has presented his research at seminars of top universities around the world. In addition to his academic impact, his research also attracts attention and interest from international media outlets such as Financial Times, The Economist, and Forbes. It is clearly relevant for practice too."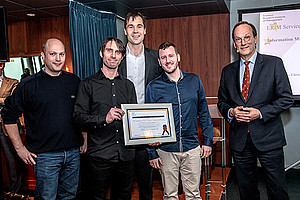 The 2017 ERIM Service Award was presented to the consultants and developers of Information Management and Consulting (IMC) at RSM, led by Richard Hageman. ERIM honours the research support services it receives from Erasmus University's staff members, recognising that high quality services play a vital role in enabling top academic research. Richard Hageman's team received the award particularly for the efforts of Ido de Lepper, Onno Lissenberg and Benjamin Serfhos. In addition, reference was made to the contributions of Govert Buijs, Christoph Kempen, Erik Kemperman and Paul Kievits. The ERIM management team said: "The consultants and developers of IMC have been a highly valued and trusted business partner for ERIM for many years. We recognise their leadership, dedication and contribution to the re-development, including a technical and future-proof upgrade and a complete overhaul of the design of the ERIM Member Information System MIS, and for the execution of the project."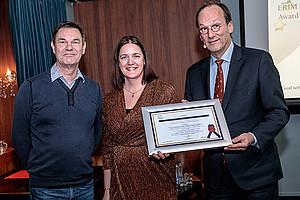 Rounding off this year's award programme was the 2017 Award for the Impact on Management Practice going to the collaboration between Professor Michaéla Schippers, Ad Scheepers and the associated team members of the Erasmus Centre for Study and Career Success, for their outstanding achievements in the field of goal setting. Michaéla Schippers is a Member and Fellow of ERIM and Endowed Professor in Behaviour and Performance Management at the Department of Technology and Operations Management at RSM. Ad Scheepers is Policy Advisor and Project Manager at RSM. The external jury for the Impact award was composed of Philip Eykerman, Executive Vice President of Koninklijke DSM NV and Rutger Huijgens, BP's Director European Government Affairs. They said: "The team has furthered earlier research into the value of goal setting by investigating its potential in closing the gender and ethnicity gap, and increasing resilience and self-regulation, thereby also improving student health and reducing substance usage. Over 8,000 students have participated in the goal-setting programme, experiencing its direct impact and influencing how they will manage themselves – and others – in the future. Based on the research from Michaela Schippers, Ad Scheepers and their team, the research methodology has subsequently been applied in other faculties at EUR, the University of Amsterdam and a consultancy firm. Additional schools and companies are also actively considering application of the team's research methodology."
The 2017 ERIM Award Winners