Who
Highly qualified researchers in management, not currently employed at the Rotterdam School of Management, Erasmus University (RSM) / Erasmus School of Economics (ESE), who have made an extraordinary contribution to the development and growth of ERIM as a reputable research institute in management.
Active ERIM members are excluded from ERIM Honorary Membership.
Tasks
ERIM Honorary Members are expected to contribute positively to the reputation of ERIM. Honorary Members may provide (solicited and unsolicited) advice to the ERIM Scientific Director on any aspect they deem relevant to ERIM.
Benefits
ERIM Honorary Members will be kept informed about major ERIM activities, issues and achievements and will be invited to major ERIM activities and events.
Criteria
Extraordinary contribution (see above).
Application and Evaluation Procedure
The proposal to grant an ERIM Honorary Membership should be submitted to the Scientific Director of ERIM through one of the ERIM Fellows of the ERIM Research Programme.
The Scientific Director decides on the Membership after confidential consultation of the ERIM Programme Advisory Committee. If the decision is positive, the nominated ERIM Honorary Member will be contacted about the proposed Honorary Membership.
Acceptance by the ERIM Honorary Member will be communicated to the Fellow who submitted the application in an official letter, with a copy to the Dean of the School and to the new ERIM Honorary Member, and will be announced to the ERIM community at large by means of regular media.
The Honorary Membership lasts five years and can be extended once for another five
years.
Table 1: Overview of minimum numbers of publications per membership type
(T = tenured faculty only)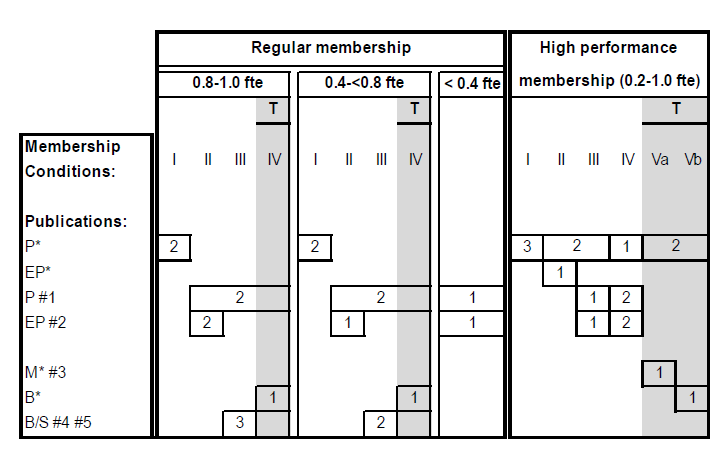 Notes:
In each column, the minimum number of publications is given per publication type.
#1: P can always be replaced by P*.
#2: EP can always be replaced by P or EP*.
#3: For membership decisions, M* publications (full articles) are counted as P.
#4: with a maximum of 2 Bs.
#5: B/S can always be replaced by B*, P, EP.