Desiderius Erasmus, the great humanist thinker after whom our university and our research institute were named, was captured in three series of bronze sculptures by sculptress Elly Hendrix. ERIM hands out these bronze works of art to mark the achievements of its graduating Research Master and PhD students and to acknowledge the most exceptional contributions to the institute by departing ERIM team members.
Arti Administrandi
For departing members of the ERIM team
For contributing to the theory and practice of excellent management. ERIM hands out the Arti Administrandi sculpture to formally recognise a departing team member's meritorious contribution to the institute's prosperity. Arti Administrandi is a limited edition ERIM sculpture. Recipients are chosen selectively, to acknowledge only the most exceptional contributions.
Technical details
Modelled in wax following the circe perdue technique, supplemented with a vacuum technique.
Height: 5 cm
Width: 12 cm
Weight: 1,78 kg
Bronze ally: 90/10
Initials: EH
Applied engraving: recipient's name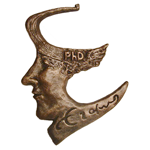 Ingenium Alatum
For PhD graduates
Renaissance genius Desiderius Erasmus of Rotterdam had a truly winged talent. During his life he acquired advanced knowledge from a variety of disciplines and made original contributions to them. His impact transcended political and confessional borders. He was also the most renowned leader of the Respublica Litteraria (the Republic of Letters), an international community of intellectuals. Through the ages Erasmus has continued to inspire that idea through his personal example.
This bronze image depicts Erasmus with wings on his cap. A winged helmet as a symbol of speed was an attribute of the Greek god Hermes and his Roman counterpart Mercury, the messenger of the gods and the god of commerce. Let this image be a symbol for the creative academic mind in the field of management, and the speed of new knowledge that grows in an international community of experts and influences activities around the world.
The Ingenium Alatum sculpture is handed out to ERIM's PhD Candidates upon successfully defending their dissertation. The handing out of the sculpture is part of the official PhD defense ceremony. Each sculpture is numbered; the number corresponds to the publication number of the defended dissertation in the ERIM PhD Series. Ingenium Alatum is an open edition ERIM sculpture. Every year, ERIM hands out 30 to 40 of these numbered sculptures.
Technical details
Height: 20 cm
Weight: 825 gr
Bronze alloy: Rg7
Initials: EH
Numbered series
Appliance: hanging and standing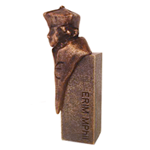 Ingenio et Studio
For Research Master graduates
In Latin, ingenium means talent, while studium refers to research, study, and zeal. The sculpture depicts a young Desiderius Erasmus of Rotterdam. This famous humanist and theologian, a driven and dedicated Renaissance genius, has served as an example and inspiration for the international community for centuries. The image of a young Erasmus is meant to inspire the young talent of today – our Research Master graduates – in their search of excellence.
The Ingenio et Studio sculpture is handed out to ERIM's Research Master students upon their graduation. It is an open edition ERIM sculpture, unnumbered. Every year, ERIM hands out 10 to 20 of these sculptures.
Technical details
Modelled in wax and following the circe perdue technique.
Height: 11,5 cm
Weight: 730 gr
Bronze alloy: 90/10
Initials: EH
Applied engraving: ERIM MPhil