Interview with sculptress Elly Hendrix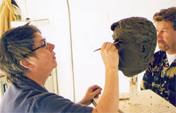 The artist behind the ERIM sculptures is Elly Hendrix, a researcher-turned-sculptress who runs a small studio in Rotterdam's historic Delfshaven quarter. In 2006, by commission of ERIM, she started designing three distinct sculptures related to the intended recipients' merit and to Desiderius Erasmus, after whom the university is named.
We interviewed Elly about the process of creating the sculptures for ERIM, and about her work and experiences as a sculptress. "What I like most about my work is the combination of economic independence and the variation: every day is different."
The bronzes for ERIM
How did your collaboration with ERIM start?
"ERIM came to me with an idea that we jointly developed further.
For me, the most important thing is: what should a sculpture convey? In the sculpture for PhD graduates, ERIM wanted to combine Erasmus with economics. That combination then became Hermes, the Greek god of trade.
In addition, the aesthetics of my sculptures are of great importance to me.
You carried out the entire sculpting process yourself. What did the process involve?
"The Arti Administrandi and the Ingenium Alatum were modelled in clay and then cast into bronze according to the Cire Perdue method, which means 'lost wax', with the application of an additional vacuum technique. For the Ingenio et Studio I applied the Cire Perdue method."
Working as a sculptress
As a sculptress of bronzes, what kind of difficulties do you encounter?
"My designs may not always be easy to execute. On the one hand, certain parts of a sculpture must be strong enough to support the weight resting on it. On the other, I sometimes encounter problems gluing different parts. If that's the case, I go the Delft University of Technology, to the department of Aerospace Engineering.
Besides, about once a year, a problem occurs at the bronze founder. Fortunately, I am on good terms with him, so we can always work something out.
When the process does not go according to plan, I never ask my clients to pay more; I feel that's not done. I've agreed upon a certain price with the client, and I will stick to it."
Elly has been a sculptress since 1988. In 1987, after concluding her PhD research, she participated in a course about entrepreneurship at the Delft University of Technology.
"I didn't really know what I wanted to do, but the idea of being my own boss appealed to me. At the same time, I discovered that I enjoyed sculpting. I made a sculpture for my project leader Jan Grandia, which he appreciated a lot. At that point, I faced the choice: to continue with my research or follow my passion for sculpting. I chose the latter.
I went to live soberly. My studio was only eight square meters big, but it was inexpensive – only 10 guilders (about 4,5 euros) a month. It was so small I needed a pair of binoculars to view a sculpture from a distance. I frequently worked until seven in the evening and spent a lot of energy doing paperwork, because I wanted to do everything myself. But I was successful: I reached my break-even point after three years and my accounting records were in order."
Different people, different stories, endless variety in wishes
"Through my work I meet incredibly many people. And not just many people, but also many different kinds of people. It is remarkable how often someone's profession, or even gender, already determines his or her wishes when they give me a commission to make a sculpture. For instance, clients who work in the real estate branch tend to be brisk and are quick to ask for discounts. They are the opposite of people who save money for some time and only then come to me. Likewise, men often request taller sculptures than women, and women more often propose to have sculptures made after their children. There is also a noticeable difference between sculptors, who often have a worldly outlook, and painters who tend towards the abstract."
Visit the website of Elly Hendrix