New IBA course "The Business of Family Business"
---
Erasmus Centre for Family Business in affiliation with RSM announce a new undergraduate IBA course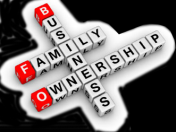 "The Business of Family Business".  Family firms make up 60% of all European businesses. During your career you will most likely consult to, work for, or start up a family business. This course, to be offered in September 2013, teaches students the unique challenges and opportunities address by family firms.
The course consists of two Modules. In Module 1 we bring together guest speakers, case studies, a visit to a family firm, lectures, readings and in class exercises for a diverse and interactive experience. In Module 2 students conduct their own live case study in a family firm where they apply their learnings from Module 1, with tutorial sessions from the instructor.
 What past students have said about the Master's family business course:
"The best course I've had during my Masters."
"The course is unique and extremely interactive. Due to this I have learnt a lot more than I would have for another course.
"Enhancing debates. Great company visit & case!! at De Kuyper."
"The final assignment (writing the teaching case) is really fun and practical."
"Students are given a chance to explore their thoughts and debate on them in class. Material covered is very different from any other course and very important."
"A very fun, practical & interactive course, with a lot of diverse activities."