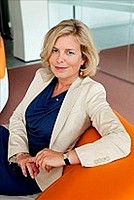 Mirelle Pennings is director of Rabobank Corporate Clients Netherlands, a division of Rabobank Commercial & Business Banking. Overall responsible for providing specialized banking services to the top end of the mid corporate companies. In addition, Rabobank's International Desks as well as insurance and pension advisory fall under her responsibility. Family owned businesses form a substantial part of Rabobank's corporate client base and these relationships have contributed to Mirelle's interest in the dynamics of family business.

Prior to joining the corporate clients division of Rabobank, Mirelle held several other positions within Rabobank Group. She started her career in 1992 in Wholesale Corporate Banking. After several years in Rabobank's Capital Markets division, she became head of Human Resources for the Wholesale and international activities of the Group.

Mirelle Pennings is a member of the Supervisory Board of Van Wijnen Group, a Dutch building company.
Mirelle holds a Master of Business Administration (drs) in Finance from Tilburg University.