Innovation and Marketing in the Pharmaceutical Industry
---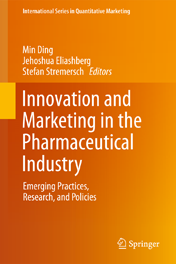 Edited by Min Ding, <link people jehoshua-eliashberg>Jehoshua Eliashberg, and <link people stefan-stremersch>Stefan Stremersch
Key features
Disseminates state-of-the art research findings and new conceptual thinking related to pharmaceutical marketing
Covers all major aspects of pharmaceutical marketing, including R&D, promotion, pricing, branding, competitive strategy, portfolio analysis
Features contributions by leading researchers from around the world
Applies a variety of techniques, including game theory, statistical analysis, and ethnographic research
Abstract
The pharmaceutical industry is one of today's most dynamic and complex industries, involving commercialization of cutting-edge scientific research, a huge web of stakeholders (from investors to doctors), multi-stage supply chains, fierce competition in the race to market, and a challenging regulatory environment. The stakes are high, with each new product raising the prospect of spectacular success—or failure. Worldwide revenues are approaching $1 trillion; in the U.S. alone, marketing for pharmaceutical products is, itself, a multi-billion dollar industry. In this volume, the editors showcase contributions from experts around the world to capture the state of the art in research, analysis, and practice, and covering the full spectrum of topics relating to innovation and marketing, including R&D, promotion, pricing, branding, competitive strategy, and portfolio management. Chapters include such features as:
an extensive literature review, including coverage of research from fields other than marketing
an overview of how practitioners have addressed the topic
introduction of relevant analytical tools, such as statistics and ethnographic studies
suggestions for further research by scholars and students
The result is a comprehensive, state-of-the-art resource that will be of interest to researchers, policymakers, and practitioners, alike.
Table of Contents
The Pharmaceutical Industry: Specificity, Challenges and What You Can Learn from this Book
Innovation in the Pharmaceutical Industry: The Process of Drug Discovery and Development
Portfolio Management in New Drug Development
Grassroots Innovation: A Promising Innovation Paradigm for Pharmaceutical Companies
New Challenges in Alliance Portfolio Management
Evaluating the Impact of Treatment Effectiveness and Side Effects in Prescribing Choices
The Successful Launch and Diffusion of New Therapies
Pharmaceutical Lifecycle Extension Strategies
Patent Expiry and Pharmaceutical Market Opportunities at the Nexus of Pricing and Innovation Policy
Risk Assessment: The Consumer as an Intuitive Statistician
Efficacy Expectations and Adherence: Evidence of Consumer Biases and Heuristics in Pharmaceutical Marketing
Factors Affecting Adherence to Governmental Health Warnings and the Case of Over-the-Counter Cough and Cold Medications (OTC-CCM) in Children Under Two
Vaccine Marketing
Patient Empowerment: Consequences for Pharmaceutical Marketing and for the Patient-Physician Relationship
Leveraging Peer-to-Peer Networks in Pharmaceutical Marketing
Leveraging Social Media in the Pharmaceutical Industry
Understanding Sample Usage and Sampling as a Promotion Tool: State of Industry Practice and Current Research
Pharmaceutical Detailing Elasticities: A Meta-Analysis
Marketing Spending Models
Modeling the Effects of Promotional Efforts on Pharmaceutical Demand: What We Know and Challenges for the Future
Direct-to-Consumer Advertising of Pharmaceuticals: An Integrative Review
How DTCA Influences Prescription Pharmaceutical Markets
Spillovers and Other Externalities in Pharmaceutical Marketing
Closing the Marketing Strategy-Tactics Gap: An Institutional Theory Analysis of Pharmaceutical Value Chain
More information