A. (Anirudh) Kishore Bhoopalam MSc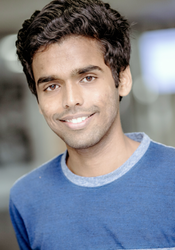 Rotterdam School of Management (RSM)
Erasmus University Rotterdam
ERIM PhD Candidate
Field:
Logistics & Information Systems
Affiliated since 2016
PhD Track Automated Driving in Freight Transport: Truck Platooning
A truck platoon is a set of virtually linked trucks that drive closely behind one another at a short headway using automated driving technology. Benefits of truck platooning include reduced operational costs (fuel and labour), decreased emissions, more efficient utilization of road capacity, and a possible reduction in the labour cost. In this research, we aim to evaluate the benefits of platooning from the planning and behavioural perspectives. To maximize the benefits of platooning, efficient planning and decision methods are required. We position platoon planning with respect to multiple well known streams of literature. Further, we aim to develop optimization models to plan platoons for the setting where drivers in the following trucks are allowed to rest. We envision the extension of these methods to study the benefits of designing the road network to facilitate platooning. In the final part, we will adopt a behavioural perspective and study driver acceptance towards platooning technology. Given that user acceptance plays a major role in the success of any technology, this doctoral research will investigate the factors that affect driver behaviour toward platooning technology.
Keywords

Transportation, Platoon, Optimization, Automated driving, Behaviour

Time frame

2016 -
---
Address
Visiting address
Office: Mandeville Building T09-53
Burgemeester Oudlaan 50
3062 PA Rotterdam
Postal address
Postbus 1738
3000 DR Rotterdam
Netherlands