A. (Anirudh) Kishore Bhoopalam MSc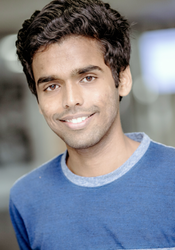 Rotterdam School of Management (RSM)
Erasmus University Rotterdam
ERIM PhD Candidate
Field:
Logistics & Information Systems
Affiliated since 2016
PhD Track Truck Platooning: Planning and behaviour
Truck platooning is often thought of as the first implementation of automated driving in an open environment. A truck platoon is a set of virtually linked trucks that drive closely behind one another. Benefits of truck platooning include cost savings, reduced emissions, and more efficient use of road capacity. To fully reap these benefits in the initial phases of technology deployment, careful planning of platoons based on trucks' itineraries and time schedules is required. This dissertation identifies various new transportation planning problems that arise in truck platooning. We develop methods to plan platoons and show that simple platoons with two trucks, with each truck being part of a single platoon in its journey, already capture most of the platooning benefits. We extend these methods to study the effect of platooning on strategic network design. In addition, this dissertation looks at how truck drivers perceive platooning technology. They foresee that platooning will eventually become a reality but believe it will have a negative impact on the quality of their work and their job satisfaction.
Keywords

Platooning, Automated driving, drivers, optimization, transport, focus groups, uncertainty, scenarios

Time frame

2016 -
Publications
Article (2)
Academic (1)

Bhoopalam, A., Agatz, N., & Zuidwijk, R. (2017). Planning of truck platoons: A literature review and directions for future research. Transportation Research. Part B, Methodological, 107(January), 212-228. https://doi.org/10.1016/j.trb.2017.10.016

Professional (1)
Event (1)
PhD Defence
As: Speaker, Contact
---
Address
Visiting address
Office: Mandeville Building T09-53
Burgemeester Oudlaan 50
3062 PA Rotterdam
Postal address
Postbus 1738
3000 DR Rotterdam
Netherlands