Dr. D. (Dimitrios) Tsekouras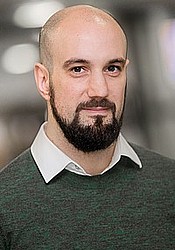 Lecturer
Rotterdam School of Management (RSM)
Erasmus University Rotterdam
Associate Member ERIM
Field:
Logistics & Information Systems
Affiliated since 2006
Dr. Dimitrios Tsekouras is a senior lecturer of Business Information Management at Rotterdam School of Management (RSM), Erasmus University. With experience across the educational ranks (bachelor, MSc, Exec. Education, industry workshops), Dimitrios is currently active in teaching (a) Research Methods I & II (MSc), (b) Customer-Centric Digital Commerce (MSc), and (c) minor of Principles of Negotiation (BSc). He also serves as the master thesis coordinator for the Business Information Management program. Dimitrios' research interests lie in the intersection of Marketing and Information Systems. The main focus is on how information can influence online decision-making and consumer behavior. Dimitrios is an expert in online personalization, recommendation systems, e-commerce, business analytics, and reputation systems. In his research portfolio, Dimitrios has an inter-disciplinary approach, combining (large-scale) field experiments in close collaboration with firms, observational data, lab experiments and online surveys. His work has appeared in the International Journal of Electronic Commerce as well as in multiple international conferences (International Conference of Information Systems, European Conference of Information Systems, INFORMS, Conference on Information Systems and Technology, Marketing Science, ACR, Statistical challenges in E-Commerce Research, Academy of Management). Dimitrios obtained his Ph.D. and MSc in Marketing at the Erasmus School of Economics, Erasmus University. Prior to joining academia, Dimitrios worked in the marketing & sales departments in the retail and movie distribution industries.
Work in Progress (4)
Ting Li, D. Tsekouras & Z. Cheng (2020). Free Shipping Promotions: Leveraging Scarcity and Popularity Information (under review).
D. Tsekouras & Ting Li (2020). Scratch My Back And I'll Scratch Yours: User Effort and Recommendation Agent Effort on Perceived Recommendation Agent Quality (under review).
T.W. Frick, D. Tsekouras & Ting Li (2020). Don't Take It Personally: The Effect of Explicit Targeting in Advertising Personalization (3rd round journal review).
D. Tsekouras, D. Gutt & I. Heimbach (2020). The Rise of Robo-Reviews – The Effects of Chatbot-mediated Review Elicitation on Online Reviews.
Publications (14)
Articles (13)
Ting Li, D. Tsekouras & Z. Cheng (2019). Free Shipping Promotions: Leveraging Scarcity and Popularity Information. In Annual Meeting of the Academy of Management. Boston, MA, USA

Ting Li, D. Tsekouras & Z. Cheng (2018). Free Shipping Promotions: Leveraging Scarcity and Popularity Information. In Proceedings of the International Conference on Information Systems. San Francesco, CA, USA

Ting Li & D. Tsekouras (2015). Free Shipping 3.0: Leveraging Scarcity and Popularity Information – A Randomized Field Experiment. In Conference on Information Systems and Technology

D. Tsekouras & Ting Li (2015). Effort Reciprocity on Perceived Recommendation Agent Quality: An Experimental Study. In Proceedings of the European Conference on Information Systems

Ting Li & D. Tsekouras (2015). Effort Reciprocity on Perceived Recommendation Agent Quality: An Experimental Study. In Proceedings of the International Conference on Information Systems

T.W. Frick, D. Tsekouras & T. Li (2014). The Times They Are A-Changin:Examining the Impact of Social Media on Music Album Performance. In Annual Meeting of the Academy of Management. Philadelphia, US

T.W. Frick, D. Tsekouras & Ting Li (2014). For Whom, How, and Where? Examining the Relationship between Social Media and Music Album Performance. In Tenth Symposium on Statistical Challenges in eCommerce Research (SCECR 2014). Tel Aviv, Israel

T.W. Frick & D. Tsekouras (2013). The Times They Are A-Changin: Examining the Impact of Social Media on Music Album Sales and Piracy. In 7th ICT Conference Paris on The Economics of Information and Communications Technologies

Ting Li & D. Tsekouras (2012). More Effort to Personalize? Examining Perceived Effort as a Signal for Quality. In Proceedings of the International Conference on Electronic Commerce
---
Address
Visiting address
Office: Mandeville Building T09-06
Burgemeester Oudlaan 50
3062 PA Rotterdam
Postal address
Postbus 1738
3000 DR Rotterdam
Netherlands