dr. E. (Evgenia) Dolgova MSc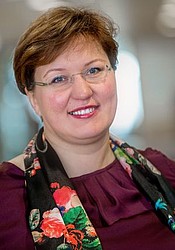 Rotterdam School of Management (RSM)
Erasmus University Rotterdam
Former
ERIM PhD Candidate
Field:
Strategy & Entrepreneurship
Affiliated since 2007
My research applies dynamic social network analysis to study innovation. Zooming on the antecedents of innovation, I explore how individual and group characteristics affect the evolution of relationships in innovating teams, and how this dynamics affects important group outcomes such as team performance. This research steam contributes to innovation literature, emphasizing that individuals and their interactions matter for organizational performance.
Zooming out, I look on the consequences of innovation and investigate how emergent technologies impact traditional institutions. Applying complexity lens, dynamic analysis of social networks and semantic network analysis, I study how new technologies propagate through society, taking massive open online courses and nanotechnology as examples. I am interested in how motivation and actions of various stakeholders result in systemic change, and ultimately adoption - or rejection - of new technology. This research stream extends organizational theory by focusing on the interplay between new technologies and institutional arrangements.
To shed light on these phenomena, I apply a broad repertoire of methods, from stochastic actor-based modeling, to social network analysis, to natural language processing.
---
PhD Track On getting along and getting ahead: How personality contributes to social network dynamics
Work in Progress
E. Dolgova & M.C. Schippers (2019). The co-evolution of perceptions of competence and friendship: The effect of self-monitoring personality. Organization Science, R&R (2) .
Publications (4)
Book Contributions
B. Schrempf & E. Dolgova (2015). Nano-technology in Ireland – an analysis of patent co-classification network. In D.G. Assimakopoulos, K. Pandza & I. Oshri (Eds.), Managing Emergent Technologies for Socio-Economic Impact (Series on Science, Technologies, Innovation and Entrepreneurship). London: Edward Elgar
Professional Publications (2)
E. Dolgova (2013). The case of Siemens TechnoWeb: Using online social network as a tool to foster organizational learning. Open Innovation Bayer Industry Event: Cologne, Germany.
Recognitions (4)
Organization Memberships (3)
European Academy of Management (EURAM)

Member

Academy of Management (AM)

Member

American Psychological Association (APA)

Foreign Member
Side positions
Erasmus PhD Association Rotterdam (EPAR)

President
Events (3)
PhD Defence
As: Contact, Speaker
Research Seminar
As: Speaker
---
Address
Visiting address
Office: Mandeville Building T11-51
Burgemeester Oudlaan 50
3062 PA Rotterdam
Postal address
Postbus 1738
3000 DR Rotterdam
Netherlands