Dr F.H. (Frank) Wijen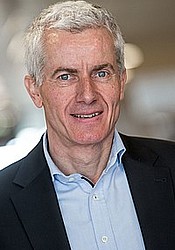 Associate Professor
Rotterdam School of Management (RSM)
Erasmus University Rotterdam
Member ERIM
Field:
Strategy & Entrepreneurship
Affiliated since 2004
Frank Wijen is an Associate Professor at the Department of Strategic Management and Entrepreneurship of Rotterdam School of Management, Erasmus University Rotterdam. He holds a PhD in management from Tilburg University, where he also worked as a Senior Researcher. His research interests include institutional processes, globalization, power and influence, organizational learning, and corporate and national environmental management. Frank published in journals such as Academy of Management Review (2014, 2015), California Management Review (2011, 2018), Organization Science (2013), Organization Studies (2006, 2007), Strategic Management Journal (2018), and Strategic Organization (2011), and was the leading editor of A handbook of globalisation and environmental policy, second edition (2012, published by Edward Elgar).
Publications (26)
Articles (16)
T. Lyon, M. Delmas, J. Maxwell, P. Bansal, M. Chiroleu-Assouline, P. Crifo, R. Durand, J.P. Gond, A. King, M. Lenox, M. Toffel, D.J. Vogel & F. Wijen (2018).

CSR needs CPR: Corporate sustainability and politics. California Management Review, 60

(4), 5-24. doi:

10.1177/0008125618778854

R. Wang & F.H. Wijen (2015). Responding to complexity within a state logic: Environmental responsibility reporting in China. In Academy of Management Annual Meeting Best Paper Proceedings. Vancouver, Canada

F.H. Wijen & A.H.L. Slangen (2012). The dark side of globalization for mature European multinationals: An extended network perspective. In R. Van Tulder, A. Verbeke & L. Voinea (Eds.), Progress in International Business Research (pp. 443-467). Emerald

S.M. Ansari, F.H. Wijen & B. Gray (2009). Averting the "tragedy of the commons": An institutional perspective on the construction and governance of transnational commons. In G. Solomon (Ed.), Academy of Management 2009 Conference Best Paper Proceedings

F.H. Wijen & G.M. Duysters (2005). Negotiating innovation: Product renewal as the outcome of a complex bargaining process. R and D Management, 35 (1), 73-87.

F.H. Wijen (2003). Invloed en leren bij het milieumanagement van ondernemingen. MAB, 77 (12), 586-593.
Books (3)
F.H. Wijen, K. Zoeteman, J. Pieters & P. van Seters (Ed.). (2012). A Handbook of Globalisation and Environmental Policy, Second Edition: National Government Interventions in a Global Arena. Cheltenham: Edward Elgar

F.H. Wijen, K. Zoeteman & J. Pieters (Ed.). (2006). A handbook of globalisation and environmental policy: National government interventions in a global arena (paperback). Cheltenham: Edward Elgar

F.H. Wijen, K. Zoeteman & J. Pieters (2005). A Handbook of globalisation and environmental policy: National government interventions in a global arena (hardback). Cheltenham: Edward Elgar
Book Contributions (5)
F.H. Wijen, K. Zoeteman, J. Pieters & P. van Seters (2012).

Globalisation and National Environmental Policy: Update and Overview.

In F. Wijen, K. Zoeteman, J. Pieters & P. van Seters (Eds.),

A Handbook of Globalisation and Environmental Policy, Second Edition: National Government Interventions in a Global Arena

(pp. 3-33). Cheltenham: Edward Elgar

F.H. Wijen (2008). The environmental (un)sustainability of the Base-of-the-Pyramid (BOP) philosophy: A governance perspective. In P. Kandachar & M. Halme (Eds.), Sustainability challenges and solutions at the base of the pyramid. Sheffield: Greenleaf

F.H. Wijen (2007). Institutionalization as a Prerequisite for Sustainable Corporate Development. In Sanjay Sharma & Mark Starik (Eds.), Organizations and the Sustainability Mosaic (pp. 106-132). Cheltenham: Edward Elgar

F.H. Wijen & K. Zoeteman (2005). Architecture of the Kyoto Protocol and prospects for public climate policy. In F. Wijen et al. (Ed.), A handbook of globalisation and environmental polity: National government interventions in a global arena (pp. 595-623). Cheltenham: Edward Elgar

K. Zoeteman, F.H. Wijen & J. Pieters (2005). Globalisation and national environmental policy: An overview. In Frank Wijen, Kees Zoeteman & Jan Pieters (Eds.), A handbook of globalisation and environmental policy: National government interventions in a global arena (pp. 1-29). Cheltenham: Edward Elgar
Professional Publications (2)
Recognitions (7)
Editorial positions (4)
Organization Studies

Editorial Reviewer

Academy of Management Review

Editorial Reviewer

Strategic Organization

Editorial Reviewer

Organization Studies

Associate Editor
Organization Memberships (2)
Academy of Management (AM)

Participant

European Group for Organizational Studies (EGOS)

Participant
Side positions
Tilburg University, Globus

Research Fellow
Courses (2)
---
Past
Advanced Topics in Engaged Strategizing (2018/2019)
---
Address
Visiting address
Office: Mandeville Building T07-38
Burgemeester Oudlaan 50
3062 PA Rotterdam
Postal address
Postbus 1738
3000 DR Rotterdam
Netherlands