G. (Georgi) Kyosev MSc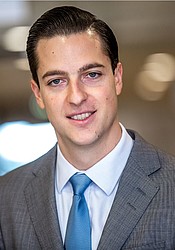 Rotterdam School of Management (RSM)
Erasmus University Rotterdam
ERIM PhD Candidate
Field:
Finance & Accounting
Affiliated since 2014
Georgi Kyosev is a PhD Candidate at Rotterdam School of Management, Department of Finance. He is working on the PhD project "Price Response To Factor Index Additions and Deletions" under the supervison of Dr. Joop Huij and Prof. Marno Verbeek. His main area of interest is factor premiums in financial markets.
---
PhD Track Factor Investing Inefficiencies in current investment approaches and drivers of long term premiums
Observed price pressure surrounding additions and deletions to S&P 500 index has long been seen as strong evidence against the efficiency of financial markets. Recent research has shown that this is not the case as becoming part of S&P 500 index causes a positive change in firm fundamentals. In this thesis I intend to test whether new additions to purely mechanical sub-indices also exhibit price pressure despite already being part of a broader index. In addition I will show that this is true information-free event so that valid inferences about market efficiency can be made. Initial results indicate that new additions to MSCI World Minimum Volatility Index gain around 100bp during the five days prior to the actual inclusion date. In subsequent papers I will shed more light into the drivers of documented anomalies with phenomena such as delegated portfolio management and other existing inefficiencies in financial markets.
Keywords

S&P 500, style investing, market efficiency, demand curves, arbitrage

Time frame

2014 -
---
Address
Visiting address
Office: Mandeville Building T08-56
Burgemeester Oudlaan 50
3062 PA Rotterdam
Postal address
Postbus 1738
3000 DR Rotterdam
Netherlands