G. (Giorgio) Touburg MSc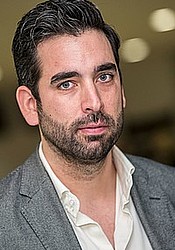 Rotterdam School of Management (RSM)
Erasmus University Rotterdam
Giorgio Touburg is a postdoctoral researcher at Rotterdam School of Management, Erasmus University (RSM).
He has a background in sociology (urban studies), obtaining both his bachelor's and master's degree from Erasmus University. He is finishing his dissertation on performativity in management theory and practice.
Prior to joining RSM, he conducted and coordinated research on knowledge migration. He has published articles and book reviews in both Dutch and international peer-reviewed journals.
At RSM, Giorgio has taught and coordinated a course on cross-cultural management and lectured about Dutch culture. Before joining RSM, he taught classes on academic skills, urban sociology, organizational sociology, and globalization.
He is currently employed on PROPHETS, an EU-wide research consortium that studies online radicalization.
In addition to his work at RSM, Giorgio frequently writes op-ed pieces and columns.
---
PhD Track Cultivating Closeness: Micro-Level Perspectives on the Transnationalization of Knowledge-Intensive Firms
In today's global economy, economic actors are increasingly interconnected. Professional service firms (PSFs) play a crucial role in connecting and catering to the globalization of the economy. These firms provide idiosyncratic, knowledge-intensive and highly customized services to other firms. Increasingly, these PSFs are globalizing as well, which poses a number of challenges. Many PSFs encounter problems when they try to centralize decisions, as offering context-dependent services in a variety of cultural and institutional contexts proves to be extremely difficult. With the studies suggested in this proposal, I aim to investigate this phenomenon using two different, but related theoretical frameworks.
The first study looks at the problem of normative control in internationally operating knowledge-intensive firms like PSFs: in such firms, traditional bureaucratic measures to monitor and control work are unsuccessful, because of the specialist and interactive nature of the services offered. Therefore, managers often appeal to a specific organizational identity to instill a sense of loyalty and compliance in their employees. In a multinational environment, such an appeal to a specific identity is difficult, because of the diverse body of employees and customers. I will investigate this phenomenon through a case study of a Dutch subsidiary of a multinational consultancy firm, employing both Dutch and Indian consultants and managers.
The second study uses novel geographic insights to investigate the ways in which employees create, modify and exchange context-sensitive knowledge in an environment with actors from different cultural contexts. The first part of the study uses a deterritorialized notion of proximity and uses qualitative interviews with consultants and managers to reconstruct which proximities are most important. The second part of the study will check the propositions developed in the first part through the analysis of the ego-networks of employees of different PSFs.
Keywords

Normative control, professional service firms, globalization, proximity, knowledge work

Time frame

2012 -
Publications (9)
Professional Publications (5)
Recognitions (14)
Editorial positions (6)
Journal of Organizational Change Management

Occasional Reviewer

BMC Public Health

Occasional Reviewer

Sociologie

Occasional Reviewer

SOCIAL & CULTURAL GEOGRAPHY

Occasional Reviewer

Academy of Management Proceedings

Ad Hoc Reviewer

BMJ Open

Occasional Reviewer
Side positions (8)
IMISCOE

RC21

NSV

IACCM

ERIM PhD Council

Vice-chairman

Vers Beton

Member of the scientific editorial team

Erasmus Magazine

Columnist

AOM

member
Event (1)
Research Seminar
As: Contact, Coordinator
---
Address
Visiting address
Office: Mandeville Building T04-10
Burgemeester Oudlaan 50
3062 PA Rotterdam
Postal address
Postbus 1738
3000 DR Rotterdam
Netherlands