G. (Gizem) Yalcin MSc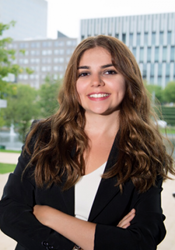 Rotterdam School of Management (RSM)
Erasmus University Rotterdam
Gizem Yalcin is a 4th year doctoral candidate in Marketing at the Rotterdam School of Management.
Her specialization is consumer behavior, and she is very much interested in the concept of technology and how it affects the way consumers behave. As a side research interest, she also studies moral behavior.
Gizem completed her undergraduate studies (BSc) in Management at Bilkent University (Turkey) with a major in marketing & innovation and a minor in psychology. She graduated cum laude in 2017 from Erasmus University's research master (MPhil) program with a specialization in marketing. In the Fall of 2018, she was a visiting graduate researcher at University of British Columbia.
She has received many grants during her graduate studies, including the ERIM Achievement Grant (2015) and a grant from the European Institute of Advanced Studies in Management (2016). She received several awards during her studies including the Bruins Prize (2017), which is intended for research students who excel in terms of their academic performance, the Beattie Award (2019) which is given to advanced graduate students who study judgment and decision making, and Talent Placement Award (2020). 
To learn more, please visit her personal website. 
---
PhD Track Man versus Machine: Unraveling the Dynamics Between Humans and Machines in Consumer Behavior
The adoption of robotics in everyday life has increased rapidly thanks to recent advancements in technology. With the accelerated demand for automated processes, robots, AIs, and algorithms have been given improved skills, including skills associated with human beings. The invasion of technology in all aspects of modern life raises important questions about relationships between humans and non-humans. Gizem's research focuses on the human-machine dynamics in consumer behavior. She aims to provide a comprehensive understanding of these dynamics involved in the transfer and valuation of information between humans and nonhumans, as well as a counter perspective on the pervasive technology-is-always-good or bad rhetoric in contemporary business literature.
Keywords

Technology, Consumer Behavior, Algorithms, Machines

Time frame

2017 -
Publication (1)
Articles
G. Paolacci & G. Yalcin (2020). Fewer but Poorer: Benevolent Partiality in Prosocial Preferences. Judgment and decision making, 15 (2), 173-181.
Recognition (1)
Side positions
Erasmus Research Institute of Management

Erasmus Research Participation System (ERPS) Administrator
---
Address
Visiting address
Office: Mandeville Building T10-24
Burgemeester Oudlaan 50
3062 PA Rotterdam
Postal address
Postbus 1738
3000 DR Rotterdam
Netherlands