I. (Ilaria) Orlandi MSc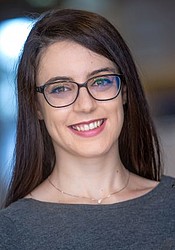 Rotterdam School of Management (RSM)
Erasmus University Rotterdam
ERIM PhD Candidate
Field:
Strategy & Entrepreneurship
Affiliated since 2013
Ilaria is a PhD Candidate in Strategic Management. Her research interests broadly include the effects of social and psychological processes in corporate governance. She currently researches the processes behind the selection and the appointment of board members and upper-echelon executives, and the effect of board diversity on directors' engagement in the boardroom discussion. 
Ilaria obtained her Master in Philosophy (MPhil) degree in Business and Management in the field of Organizational Behavior (cum laude) from Erasmus Research Institute of Management (2015) and Bachelor degree (BSc) in Economics and Business Economics (cum laude) from Erasmus School of Economics (2013). 
---
PhD Track Shedding Light into The Black Box of Board of Directors' Functioning: Unveiling Theoretical Mechanisms in Corporate Governance
Corporate governance scholars have long investigated top executives and especially the Board of Directors (BoD) with the intent to gather a deeper understanding of behind the scenes of how firm strategies are taken. This is pivotal since firm strategies have direct consequences on firm performance and the welfare of the stakeholders. Once appointed by the shareholders, traditionally directors have three main interrelated roles: monitoring, advising, and bringing resources to the firm above and beyond the top management team.
Nevertheless, little is known about what exactly happens in the "black box" of the boardroom. Theories are therefore frequently generated to illustrate how – for instance – the appointment of new directors affects firm performance and/or market reactions. Their theoretical rationales and mechanisms however are rarely captured by means of empirical tests (cf. Miller & Tsang, 2010), especially due to the heavy reliance on unobtrusive measures. This suggests that the causal mechanisms in play are rarely directly tested.
During my doctoral trajectory, I intend to devote my attention to the explanatory and causal mechanisms within the context of corporate governance, opening the black box of the board room. Specifically, my objective is to unveiling explanatory and causal mechanisms in three different but interrelated ways. The aim of the first paper is to suggest a type of theorizing that facilitates the inclusion of mechanisms during the process of theory development, leading to the production of better theories (Paper 1). The scope of this paper clearly but purposefully goes beyond the field of corporate governance. It is nonetheless of crucial importance since this will also allow for the discovery of the most recurrent mechanisms in the management field and relatedly for the selection of a mechanism that has so far been downplayed in the setting of board of directors: motivation. This mechanism will constitute the starting point for my second and third paper. Relatedly, my intention is to examine how firms can affect the motivational mechanism that drives individuals to become directors in the first place (Paper 2) and to act meeting the expectations of the shareholders that appointed them (Paper 3).
---
Address
Visiting address
Office: Mandeville Building T07-14
Burgemeester Oudlaan 50
3062 PA Rotterdam
Postal address
Postbus 1738
3000 DR Rotterdam
Netherlands