I. (Ilaria) Orlandi MSc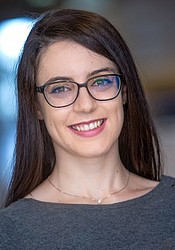 Rotterdam School of Management (RSM)
Erasmus University Rotterdam
ERIM PhD Candidate
Field:
Strategy & Entrepreneurship
Affiliated since 2013
Ilaria is a Ph.D. Candidate in Strategic Management. Her research interests broadly include the effects of social and psychological processes in corporate governance. She currently researches the processes behind the selection and the appointment of board members and upper-echelon executives, and the effect of board diversity on directors' engagement in the boardroom discussion. Outside of her dissertation, Ilaria investigates how constructs, such as information asymmetry, can affect the theorizing process in the management field.
Ilaria was a visiting scholar at the Management & Organization department at the Smeal College of Business at the Pennsylvania State University during the Spring semester of 2019.
She obtained her Master in Philosophy (MPhil) degree in Business and Management in the field of Organizational Behavior (*cum laude*) from Rotterdam School of Management, Erasmus University (2015) and her Bachelor degree (BSc) in Economics and Business Economics (*cum laude*) from Erasmus School of Economics (2013).
PhD Track Will Directorhsip Get You There: How Joining a Board Directly (and Indirectly) Affects Directors' Career Prospects
Whereas most research on board of directors is either focused on board composition or on sitting boards' behavior, I will focus on the directorship appointment as the first stage to create an effective board. This decision is thought to strongly influence the strategic decisions of the firm and thus firm performance. Boards are expected to bring extra resources and insights to management and monitor management's actions with the intent to pursue short-term and long- term strategic actions that can benefit shareholders. Two key assumptions underlie this line of reasoning: (i) the directors meet the expectations that their role entails, and (ii) directorships have a positive effect on the career prospects of the upper echelons, encouraging the most competent individuals to compete for an appointment. In my dissertation, I will explore theoretical and empirical settings in which at least one of these two conditions is not met.
Keywords

Role theory; Directors selection; Directors Mobility; Stigmatization; Strategic decision-making

Time frame

2015 -
Publications
Article (1)
Academic (1)

Bergh, D., Ketchen, D., Orlandi, I., Heugens, P., & Boyd, B. (2019). Information asymmetry in management research: past accomplishments and future opportunities. Journal of Management, 45(1), 122-158. https://doi.org/10.1177/0149206318798026
---
Address
Visiting address
Office: Mandeville Building T07-14
Burgemeester Oudlaan 50
3062 PA Rotterdam
Postal address
Postbus 1738
3000 DR Rotterdam
Netherlands