Prof.dr. S.I. (Ilker) Birbil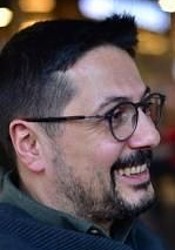 Associate Professor
Erasmus School of Economics (ESE)
Erasmus University Rotterdam
Member ERIM
Field:
Logistics & Information Systems
Affiliated since 2002
Ilker Birbil is an internationally well recognised expert in the field of optimisation and decision making. Over the last few years, he has been expanding his research and teaching into the area of data science. Within several disciplines including operations research there is an increasing attention for data science and machine learning techniques. One stream of his research is developing in this area. In particular, he is looking at large scale optimisation problems that are fundamental to machine learning problems. Ilker Birbil will immediately strengthen data science research and teaching at Erasmus School of Economics, e.g. in the econometrics MSc programme (specialisation Business Analytics and Quantitative Marketing) and the economics MSc specialisation of Data Science and Marketing Analytics.
Ilker Birbil received his PhD degree from North Carolina State University, Raleigh, USA. He then worked for two years as a postdoctoral research fellow of the Erasmus Research Institute of Management in Rotterdam. Until recently he held a full professor position with Sabanci University, Istanbul, Turkey, in the Faculty of Engineering and Natural Sciences.
Publications (51)
Articles (50)
S.I. Birbil, K. Bulbul, J.B.G. Frenk & H.M. Mulder (2015). On EOQ cost models with arbitrary purchase and transportation costs.

Journal of Industrial and Management Optimization, 11

(4), 1211-1245. doi:

10.3934/jimo.2015.11.1211

A. Gunay, F. Oztoprak, S.I. Birbil & P. Yolum (2009).

Solving Global Optimization Problems Using MANGO.

In A. Håkansson, N.T. Nguyen, R.L. Hartung, R.J. Howlett & L.C. Jain (Eds.),

KES-AMSTA 2009: Agent and Multi-Agent Systems: Technologies and Applications Vol. 5559. Lecture Notes in Computer Science

(pp. 783-792). Berlin, Heidelberg: Springer

[go to publisher's site]

S.I. Birbil, G. Gurkan & O. Listes (2006). Solving stochastic mathematical programs with complementarity constraints using simulation: an application in toll pricing. In proceeding of 2004 Winter simulation conference (WSC '04). Washington DC

S.I. Birbil, S. Alp & G. Ertek (2006). Application of the cutting stock problem to a construction company: a case study. In Proceeding of The 5th International Symposium on Intelligent Manufacturing Systems. Sakarya

S.I. Birbil, N. Kavlak, G. Ulusoy & F.S. Serifoglu (2005). Client-contractor bargaining on net present value in the context of a project with limited resources. In Proceeding of 35th International Conference on Computers and Industrial Engineering. Istanbul

S.I. Birbil, G. Ertek, B. Aksu, M.C. Ikikat & C. Yildirmaz (2005). Application of local search methods for solving a quadratic assignment problem: a case study. In Proceeding of 35th International Conference on Computers and Industrial Engineering. Istanbul

S.I. Birbil, S.C. Fang, J. Han & Z. Huang (2005). On the finite termination of an entropy function based smooting Newton method for vertical linear complementarity problems. Journal of Global Optimization, 33 (3), 369-391.

S.I. Birbil (2005). Challenges for sustainable urban transportation in Turkey. In Proceeding of 35th International Conference on Computers and Industrial Engineering. Istanbul

S.I. Birbil & S.C. Fang (2003). An electromagnetism-like mechanism for global optimization. Journal of Global Optimization, 25 (3), 263-282.

S.I. Birbil & O. Feyzioglu (2003). A global optimization method for solving fuzzy relation equations. In T. Bilgic, B.D. Baets & O. Kaynak (Eds.), Fuzzy sets and systems IFSA 2003 (pp. 718-724)
Book Contributions
S.I. Birbil, J.B.G. Frenk, B. Kaynar & N. Noyan (2009). Risk measures and their applications in portfolio optimization. In G.N. Gregoriou (Ed.), The VAR Implementation Handbook (pp. 311-338). New York: McGraw Hill
PhD Track (1)

Role: Co-promotor
PhD Candidate: Utku Karaca
Time frame: 2018 -
Event (1)
Research Workshop
As: Speaker
Award (1)
Fellowship - ERIM postdoc programme

(2002)
---
Address
Visiting address
Office: ET-46
Burgemeester Oudlaan 50
3062 PA Rotterdam
Postal address
Postbus 1738
3000 DR Rotterdam
Netherlands