dr. J.S. (Jatinder) Sidhu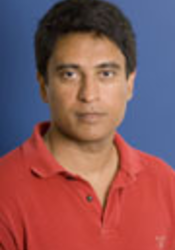 Associate Professor
Rotterdam School of Management (RSM)
Erasmus University Rotterdam
Member ERIM
Field:
Strategy & Entrepreneurship
Affiliated since 2000
Jatinder Sidhu is Associate Professor at the Department of Strategic Management & Entrepreneurship, Rotterdam School of Management (RSM), Erasmus University.
Dr. Sidhu earned his first degree at the Delhi School of Economics, India, and studied for his PhD degree at the Tinbergen Institute, Erasmus School of Economics (ESE). Former Academic Director of the department's MSc program in Strategic Management and the National Representative of the Netherlands at the European Academy of Management (2015-2018), he teaches flagship courses in Strategy at the graduate and undergraduate levels. He is also the Scientific Director of the Erasmus Governance Institute at the Erasmus School of Accounting & Assurance.
Dr. Sidhu's current research focuses on issues related to corporate leadership (CEOs, top management teams, and corporate boards); firms' short and long-term performance and commitment to sustainability; the impact of identity and organizational identity on decision-making, creativity and innovation; the effects of gender, diversity and inclusiveness on strategy and business model innovation; managerial cognition, search and organizational routines. His work has been published in a variety of journals including, the European Management Journal, European Management Review, International Business Review, Journal of Business Research, Journal of Management, Journal of Management Studies, Journal of Product Innovation Management, and Organization Science. Dr. Sidhu serves as Associate Editor for the European Management Review.
Publications (20)
Articles (11)
J.S. Sidhu, H.R. Commandeur & H.W. Volberda (2003). On the conceptualization and measurement of exploration orientation and its impact on innovation. In Best paper proceedings of the Academy of Management. Seattle, WA: Academy of Management
Book Contributions (4)
E. Karali, F. Angeli, J.S. Sidhu & H.W. Volberda (2018). Understanding healthcare innovation through a dynamic capabilities lens. In R. Wilden, M. Garbuio, F. Angeli & D. Mascia (Eds.), Entrepreneurship in Healthcare. New York: Routledge

B. Basboom, M.L.M. Heyden & J.S. Sidhu (2018). Boards of directors' influence on strategic renewal: How do human and relational capital matter? In A. Lindgreen, F.A.J. van den Bosch, A. Tuncdogan & H.W. Volberda (Eds.), Handbook of strategic renewal. U.K.: Routledge

J.S. Sidhu & F. Salvador (2015). Foundations of dynamic capabilities for technological innovation. In D. Assimakopoulos, I. Oshri & K. Pandza (Eds.), Managing emerging technologies for socio-economic impact. U.K.: Edward Elgar

S.M. Ansari, J.S. Sidhu, H.W. Volberda & I. Oshri (2011). Managing globally disaggregated teams: The role of organizational politics. In F Contractor, V Kumar, S Kundu & T Pedersen (Eds.), Global outsourcing and offshoring: An integrated approach to theory and corporate strategy (pp. 297-324). Cambridge University Press
Professional Publications (5)
I. Oshri, J.S. Sidhu & B. Warmenhoven (2005). Knowledge Exploitation. Management Executive, 3 (5), 58-60.

J.S. Sidhu & R.L. Olie (2005). Nut van expliciete definiering van het businessdomein: Een onderzoek onder Nederlandse bedrijven. MAB, 79 (10), 522-528.

J.S. Sidhu (2004). Business-domain definition and performance: An empirical study. SAM Advanced Management Journal, 69 (4), 40-45.
Courses (2)
Past
Managing the Strategy Formulation (2017/2018, 2016/2017)
Offshoring and Outsourcing of IT and Business Services (2017/2018, 2016/2017)
Events (2)
Research Seminar
As: Coordinator
Institute Event
As: Speaker
---
Address
Visiting address
Office: Mandeville Building T07-43
Burgemeester Oudlaan 50
3062 PA Rotterdam
Postal address
Postbus 1738
3000 DR Rotterdam
Netherlands