M.P. (Manissa) Gunadi MSc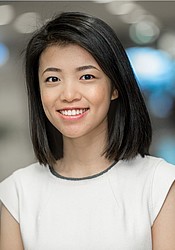 Rotterdam School of Management (RSM)
Erasmus University Rotterdam
Manissa Gunadi is a fourth-year doctoral candidate in Marketing at Rotterdam School of Management. She primarily investigates how different forms of numerical information influence consumers' judgments and decision making. Additionally, she is also interested in understanding drivers of consumer motivation.
In the Fall of 2017, Manissa was a Visiting Graduate Researcher at UCLA Anderson.
Manissa obtained her MPhil degree in Business (with a specialization in Marketing) from Erasmus Research Institute of Management (2015), MSc degree in Marketing Management from Rotterdam School of Management (2013), and BSc degree in Economics from Erasmus School of Economics (2012). 
---
PhD Track PhD Project in Consumer Behavior
Consumer behavior is the study of human responses to products, services, and the marketing of products and services. The Consumer Behavior research group of the Department of Marketing Management at Rotterdam School of Management (Erasmus University) is seeking a highly motivated PhD student who desires to pursue an academic career studying consumer behavior. A strong applicant is highly motivated to conduct novel research within the field of consumer behavior/psychology, has a background in psychology, business, statistics, or a related field, and desires to pursue an international career as a leading academic. The project will enable the PhD student to develop new theories about consumer behavior/psychology and support those theories with quantitative research. The project will be defined by the student and the advisors together and thus requires creativity, self-direction, and passion for scientific research.
Keywords

motivation, desire, intertemporal choice, choice under risk and uncertainty, self-control, social dilemmas, status, consumption

Time frame

2015 -
---
Address
Visiting address
Office: Mandeville Building T10-07
Burgemeester Oudlaan 50
3062 PA Rotterdam
Postal address
Postbus 1738
3000 DR Rotterdam
Netherlands