M. (Mohammad) Ansarin MSc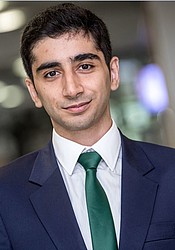 Rotterdam School of Management (RSM)
Erasmus University Rotterdam
ERIM PhD Candidate
Field:
Logistics & Information Systems
Affiliated since 2015
## Active Projects ##
My current research is about tariff designs in the renewable energy era. Renewables continue to expand in many regions of the world, much of it at a local (distribution grid) level. Here, households or communities install local generation resources to meet some of their electricity needs. Yet many energy retailers stick to conventional tariff designs based on assumptions that are sometimes no longer accurate. We study the implications of using these tariffs and alternative designs on fairness within a subscribing population. This would clarify the consequences of increasing renewables on multiple stakeholders in the electricity retail space.
I have also conducted agent-based modeling research based on the Power Trading Agent Competition. Power TAC is an agent-based competitive simulation of the electricity grid (more info at powertac.org). The goal is to understand the effects of policy and market designs on outcomes for various stakeholders. We analyzed some of the simulation's design choices for the wholesale electricity market and the balancing market and formulated some recommendations for design that is both computationally tractable and realistically acceptable.
I also co-teach the Designing Business Applications course, part of the Business Information Management MSc program (together with Dr. Yashar Ghiassi-Farrokhfal). I have previously taught the Next Generation Business Applications course from the same program. I regularly coach and co-read MSc theses. I have been a member of the RSM Faculty council since September 2017.
PhD Track The Pros and Cons of Industrial Energy Cooperatives
Technological progress and climate change concerns are disrupting the electric- ity supply chain. These factors stimulate public and private interest in renewable energy sources (RES), electric mobility, and pivoting electricity markets to be more demand-driven. However, the electricity grid has historically been centralized and supply-driven. This was mainly because the supply chain was dependent on large- scale, fossil fuel-based electricity generation. Yet many emergent elements in the electricity grid require that it be decentralized and smart. One organizational form that fosters a decentralized grid and smart information systems is energy coopera- tives. This organizational form appeared in the early years of electricity supply in the early 20th century, and has recently found significant implementation in Ger- many as a platform for aggregating distributed RES from small-scale prosumers within a microgrid. However, there is very little research on how this organizational form would operate in an industrial microgrid. In this work, I propose three studies that delve into this topic. I seek to inform the business and academic communi- ties about the advantages and setbacks that energy cooperatives will experience as results of the transition to a decentralized, clean electricity grid.
Keywords

energy cooperatives, sustainability, microgrids, electricity markets

Time frame

2015 -
Publications
Abstract (1)
Academic (1)

Ansarin, M., Ghiassi-Farrokhfal, Y., Ketter, W., & Collins, J. (2018). Cross-subsidies in Energy Co-operative Tariff Designs.
Article (2)
Academic (2)

Ansarin, M., Ghiassi-Farrokhfal, Y., Ketter, W., & Collins, J. (2020). The Economic Consequences of Electricity Tariff Design in a Renewable Energy Era. Applied Energy, 275, [115317]. https://doi.org/10.1016/j.apenergy.2020.115317

Ansarin, M., Ghiassi-Farrokhfal, Y., Ketter, W., & Collins, J. (2020). Cross-subsidies among residential electricity prosumers from tariff design and metering infrastructure. Energy Policy, 145. https://doi.org/10.1016/j.enpol.2020.111736
Conference proceeding (6)
Academic (6)

Ansarin, M., Ghiassi-Farrokhfal, Y., Ketter, W., & Collins, J. J. M. . (2019). Increasing Renewables In Energy Cooperatives Leads To Higher Cross-Subsidies, Depending On Tariff. In 42nd IAEE Conference (International Association for Energy Economics)

Ansarin, M., Ghiassi-Farrokhfal, Y., Ketter, W., & Collins, J. (2017). Cross-subsidies in Energy Cooperative Tariff Designs. In Workshop on Information Technology & Systems (WITS)

Ansarin, M., Ghiassi-Farrokhfal, Y., Ketter, W., & Collins, J. (2016). A cooperative aggregation model for pricing residential energy users with renewable energy sources. In Workshop on Information Technology and Systems

Ansarin, M., Ketter, W., & Collins, J. (2016). Analyzing and improving the energy balancing market in the Power Trading Agent Competition. In IEEE Innovative Smart Grid Technologies Europe (pp. 1) https://doi.org/10.1109/ISGTEurope.2016.7856197

Ansarin, M., Ketter, W., & Collins, J. (2016). Dynamic peak demand pricing under uncertainty in an agent-based retail energy market. In International Joint Conference on Artificial Intelligence, AMEC/TADA Workshop

Ansarin, M., Ghiassi-Farrokhfal, Y., Collins, J., & Ketter, W. (2016). A Demand Response Model for Residential Energy Cooperatives with Distributed Generation. In Workshop on Information Technology and Systems (WITS)
---
Address
Visiting address
Office: Mandeville Building T09-24
Burgemeester Oudlaan 50
3062 PA Rotterdam
Postal address
Postbus 1738
3000 DR Rotterdam
Netherlands