P.M. (Paul) Wiegmann MSc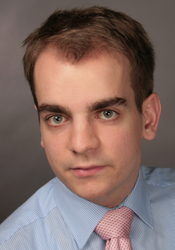 Rotterdam School of Management (RSM)
Erasmus University Rotterdam
ERIM PhD Candidate
Field:
Logistics & Information Systems
Affiliated since 2013
Paul Wiegmann is a PhD candidate at the Department of Technology and Operations Management. He conducts research about the impact of standards on innovation. Before joining ERIM as a PhD candidate, Paul obtained a BSc in Management from the University of Warwick (UK) and a MSc in Management of Innovation from Erasmus University Rotterdam.
In addition to his research, Paul has acted as First Year Representative (2013-2014) and Chairman (2014-2015) on the ERIM PhD council.
---
PhD Track Different routes towards standards and their impact on innovation
Standards and innovation are two concepts that at first sight appear to be at odds
with each other. However, there is clearly a relationship between the two as
technological advances influence the development of new standards which in turn
have an impact on further innovation activities. Based on existing research, this
relationship appears to be complicated with some aspects of standards supporting
innovation while others are a hurdle for it. However, existing literature only offers
some 'puzzle pieces' on this relationship with a coherent picture still missing.
The proposed PhD projects consists of two parts: The first part concentrates on how
standards are developed and integrates different views on this issue to better reflect
how such processes work in reality. This part aims to develop a dynamic framework
of standardisation and identify under which conditions what standardisation strategy
is most promising for firms who aim to have their preferences included in a standard.
The second part of the project aims to answer the question how different standards
within this framework impact on innovation. Here, the project will explore how these
standards can support or hinder new product development and business model
innovation and how companies and parties involved in standardisation can maximise
the positive effects and minimise obstacles.
Keywords

Standardisation; Innovation; De-Facto Standards; Formal Standards; Regulation; New Product Development; Business Model Innovation

Time frame

2013 -
Publications (10)
Book Contributions (8)
P.M. Wiegmann (2018). Thoughts on the Implications of Multi-Mode Standardisation for Future Research. In K. Jakobs & R.V. O'Connor (Eds.), EURAS Proceedings 2018 - Standards for a Smarter Future (pp. 287-295). Aachen: Verlagshaus Mainz

P.M. Wiegmann (2017). Forum Choice in Standardisation - A Choice Experimental Approach. In K. Jakobs & K. Blind (Eds.), EURAS Proceedings 2017 - Digitalisation: Challenge and Opportunity for Standardisation (pp. T433-T448). Aachen: Verlagshaus Mainz

S.P. Toussaint & P.M. Wiegmann (2017). Towards a Secure Future of the Internet of Things: Understanding Drivers for Security Standardization. In K. Jakobs & K. Blind (Eds.), EURAS Proceedings 2017 - Digitalisation: Challenge and Opportunity for Standardisation (pp. T387-T406). Aachen: Verlagshaus Mainz

H.J. de Vries & P.M. Wiegmann (2017). Impact of service standardization on service innovation. In R. Hawkins, K. Blind & R. Page (Eds.), Handbook of Standards and Innovation (pp. 187-211). Cheltenham, UK: Edward Elgar

P.M. Wiegmann (2016). Managing Standards in Radical Innovation Projects - The Case of Micro Combined Heat and Power. In K Jakobs, A Mione, A.F Cutting-Decelle & S Mignon (Eds.), EURAS Proceedings 2016 - Co-opetition and Open Innovation (pp. 455-472). Aachen: Wissenschaftsverlag Mainz

H.J. de Vries, J. Trietsch & P.M. Wiegmann (2014). Towards a community of standardisation professionals. In I. Mijatović, J. Filipovic & A. Horvat (Eds.), Proceedings 11th International Conference "Standardization, Protypes and Quality: A Means of Balkan Countries'Collaboration" (pp. 13-20). Belgrade: University of Belgrade, Faculty of Organizational Sciences

P.M. Wiegmann (2014). Choosing the Right Strategy - Considerations in Allocating Resources in Standard Setting. In I Mijatovic & K Jakobs (Eds.), EURAS Proceedings 2014 - Cooperation between standardisation organisations and the scientific and academic community (pp. 263-277). Aachen: Wissenschaftsverlag Mainz

P.M. Wiegmann (2013). Combining Modes of Standard Setting - Analysing Strategies and the Case of Connectors for Charging Electric Vehicles in Europe. In K. Jakobs, H.J. de Vries, A. Ganesh, A. Gulacsi & I. Soetert (Eds.), EURAS Proceedings 2013 - Standards: Boosting European Competitiveness (pp. 397-411). Aachen: Wissenschaftsverlag Mainz
---
Address
Visiting address
Office: Mandeville Building T09-47
Burgemeester Oudlaan 50
3062 PA Rotterdam
Postal address
Postbus 1738
3000 DR Rotterdam
Netherlands