dr. Q.K (Cynthia Qingxia ) Kong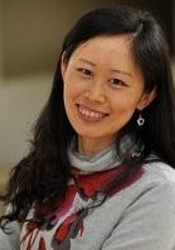 Rotterdam School of Management (RSM)
Erasmus University Rotterdam
Associate Member ERIM
Field:
Logistics & Information Systems
Affiliated since 2016
Dr. Qingxia Kong is an assistant professor of Operations Management at Rotterdam School of Management, Erasmus University Rotterdam.
After completing her PhD at National University of Singapore, she worked as an assitant professor of Operations at Universidad Adolfo Ibanez, Santiago de Chile. She joined Erasmus University in 2016.
Kong's research interests are healthcare operations management and behavioural operations. 
Publications (6)
Articles (5)
Q. Kong, C.Y. Lee, C.P. Teo & Z.C. Zheng (2013). Scheduling Arrivals to a Stochastic Service Delivery System using Copositive Cones. Operations Research, 61 (3), 711-726. doi: http://pubsonline.informs.org/doi/abs/10.1287/opre.2013.1158

M. Chou, Q. Kong, C.P. Teo & H. Zheng (2009). Benford's Law and Number Selection in Fixed-Odds Numbers. Journal of Gambling Studies, 25 (4), 503-521. doi: https://www.ncbi.nlm.nih.gov/pubmed/19641983

Q. Kong & Q. Lu (2006). Demand Model of Stochastic Customer Choice and Its Application in Inventory Control. Logistics Research, 7, 127-130.
Book Contributions
M. Chou, Q. Kong, C.P. Teo & H. Zheng (2015). Managing Risk in Numbers Games: Benford's Law and the Small-Number Phenomenon. In Steven J. Miller (Ed.), Benford's Law: Theory and Applications. United State: Princeton University Press
Recognitions (6)
Editorial positions (6)
International Journal of Production Research

Ad Hoc Reviewer

Management Science

Ad Hoc Reviewer

Operations Research

Ad Hoc Reviewer

Production and Operations Management

Ad Hoc Reviewer

IISE Transactions

Ad Hoc Reviewer

Manufacturing and Service Operations Management

Ad Hoc Reviewer
Event (1)
Research Seminar
As: Speaker
---
Address
Visiting address
Office: Mandeville Building T09-46
Burgemeester Oudlaan 50
3062 PA Rotterdam
Postal address
Postbus 1738
3000 DR Rotterdam
Netherlands