R. (Roxana) Turturea MSc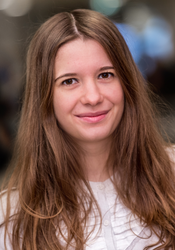 ERIM PhD Candidate
Field:
Strategy & Entrepreneurship
Affiliated since 2012
Roxana Turturea is a PhD candidate in the Department of Strategic Management and Entrepreneurship. Roxana is generally interested in entrepreneurial finance, in particular in the drivers and consequences of entrepreneurs' financing decisions. In the context of entrepreneurial finance, she investigates how entrepreneurs overcome resource constraints by either using new sources of finance (such as crowdfunding) or by employing creative ways to acquire resources.
---
PhD Track The Determinants and Consequences of the Capital Structure of Private Companies
Work in Progress
R. Turturea, I. Verheul & Hans Bruining (2018). Does It Pay To Be Cheap, How Financial Bootstrapping Affects The Performance of New Ventures.
Publications (4)
Articles (3)
P.P.M.A.R. Heugens, P.J. Engelen, Roxana Turturea, M. van Essen & N. Bailey (2018). The impact of stakeholders' temporal orientation on short- and long-term IPO outcomes: A meta-analysis. Long Range Planning, Accepted.

S. Sauerwald, P.P.M.A.R. Heugens, Roxana Turturea & M. van Essen (2018). Are all private benefits of control ineffective? Principal-principal benefits, external governance quality, and firm performance. Journal of Management Studies, Accepted. doi: 10.1111/joms.12420
Professional Publications
Hans Bruining, I. Verheul & Roxana Turturea (2012). Does it pay to be cheap? How financial bootstrapping affects the performance of new ventures. In Andrew prof Zacharakis (Ed.), Frontiers of Entrepreneurship Research Vol. 32. Frontiers of Entrepreneurship Research 2004 (pp. 14-14). Boston (US): The Arthur M. Blank Center for Entrepreneurship
Event (1)
PhD Defence
As: Contact, Speaker
---
Address
Postal address
P.O. Box 11000
FI-00076 Aalto
Finland