Dr. R.R.P. (Roy) Kouwenberg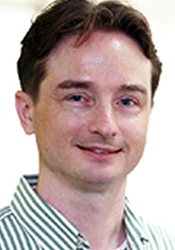 Erasmus School of Economics (ESE)
Erasmus University Rotterdam
Visiting Member ERIM
Field:
Finance & Accounting
Affiliated since 2005
Roy Kouwenberg is a visiting researcher at the Department of Business Economics, at the Erasmus School of Economics (ESE). He is Associate Professor and Chair of the Ph.D. Program at Mahidol University in Bangkok.
His research focuses on portfolio choice in a behavioural framework, especially the impact of loss aversion and ambiguity aversion on stock market participation. He collaborates in this area with Peter Wakker (Erasmus, ESE), Steve Dimmock (Nanyang Technological University, Singapore), Kim Peijnenburg (Bocconi, Milan), Oliva Mitchell (Wharton School, U of Pennsylvania), Xuedong He (Columbia University), Xunyu Zhou (Oxford University) and Remco Zwinkels (VU University, Amsterdam).
Roy's work has been published in the Journal of Financial Economics, Management Science, the Journal of Financial and Quantitative Analysis and the Review of Economics & Statistics, among others.
Roy has work experience as a quantitative analyst at AEGON Asset Management and has done extensive research on risk management for financial institutions. He is a CFA charterholder (Chartered Financial Analyst). Roy received his Ph.D. from Erasmus University Rotterdam in 2000.
Publications (29)
Book Contributions (3)
A.B. Berkelaar, A. Kobor & R.R.P. Kouwenberg (2006). Advanced Risk Budgeting Techniques. In M. Ong (Ed.), Risk Management: A Modern Perspective (pp. 89-111). Burlington: Academic Press / Elsevier

R.R.P. Kouwenberg & A.A. Mentink (2006). The Links Between Central, East European and Western Security Markets. In J.A. Batten & C. Kearney (Eds.), Emerging European Financial Markets: Independence and Integration Post-Enlargement (pp. 353-381). Amsterdam: Elsevier JAI

R.R.P. Kouwenberg & S.A. Zenios (2006). Stochastic Programming Models. In S.A. Zenios & W.T. Ziemba (Eds.), Handbook of Asset and Liability Management, Volume 1 (pp. 253-303). Amsterdam: North Holland
Doctoral Thesis
R.R.P. Kouwenberg (2000, juni 15).

Dynamic asset liability management.

Erasmus University Rotterdam (169 pag.) (Amsterdam: Thela - Thesis) Prom./coprom.: Prof.Dr. A.C.F. Vorst & J. Spronk.
Professional Publications
Events (2)
Research Seminar
As: Speaker
Research Seminar
As: Speaker
---
Address
Visiting address
Office: Tinbergen Building H14-15
Burgemeester Oudlaan 50
3062 PA Rotterdam
Postal address
Postbus 1738
3000 DR Rotterdam
Netherlands