J.S. (Stefan) Breet MSc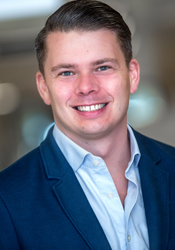 Rotterdam School of Management (RSM)
Erasmus University Rotterdam
ERIM PhD Candidate
Field:
Strategy & Entrepreneurship
Affiliated since 2012
**Stefan Breet is a PhD candidate in the Department of Strategic Management & Entrepreneurship of the Rotterdam School of Management (RSM), Erasmus University.**
His research focuses on the causes and consequences of corporate entrepreneurship and strategic change.
One part of his research focus on organisational social networks and how they enable or constrain intrapreneurship. To what extent do the relationships we have at work stimulate us to take initiative and come up with ideas that benefit our organizations? How can managers create an environment in which people feel free to speak up and share information?
Another part focuses on management teams and the way they make decisions when their firms underperform. Are they able to make the strategic changes necessary to bring back performance to the desired level? Or do they rather hold on to existing routines and activities?
To answer these questions, Stefan combines different scientific perspectives—such as performance feedback theory, the behavioral theory of the firm, and structural holes theory—and research methods—including social network analysis, meta-analysis, and necessary condition analysis.
Stefan received his MSc degree in 2015 from the Rotterdam School of Management, Erasmus University after completing the Master of Philosophy in Business Research—a two-year research master programme focused on the development of academic competencies and skills. In 2012 he received his BSc degree in Business Administration from the University of Groningen.
PhD Track Entrepreneurial Behavior: A Multi-Level Challenge. The effect of organizational contexts and social capital on entrepreneurial behavior and firm performance
Organizations increasingly rely on the entrepreneurial behavior of their employees as a way to respond to changes in their competitive environments. While management scholars have acknowledged people's entrepreneurial behavior as the cornerstone of corporate entrepreneurship and designated the latter as a phenomenon that spans hierarchical levels, a complete multi-level understanding remains still to be developed. Prior research has examined either the effects of entrepreneurial behavior at the firm-level or the antecedents that determine entrepreneurial behavior of individuals. Unfortunately, it is still unclear under which conditions people's entrepreneurial behavior leads to firm success and under which it leads to failure. Moreover, despite numerous calls for its inclusion, the effect of people's social context
— that consists of their relationships with others — has been largely ignored. This PhD project therefore aims to develop our understanding of the way in which firms can create a social context that fosters people's entrepreneurial behavior that will contribute to firm performance. To achieve this aim, a multi-level model will be developed and tested via the conduction of a meta-analysis and several primary studies.
Keywords

Entrepreneurial Behavior; Corporate Entrepreneurship; Social Capital; Behavioral Theory of the Firm; Social Network Analysis; Multi-Level Modelling

Time frame

2015 -
Publications
Conference proceeding (1)
Paper (1)
Academic (1)

Breet, S., van Rhee, H., & Dul, J. (2018). Necessary Condition Analysis (NCA) in three steps: A demonstration – Online appendix to Dul, Van der Laan, & Kuik, (2018).
---
Address
Visiting address
Office: Mandeville Building T07-46
Burgemeester Oudlaan 50
3062 PA Rotterdam
Postal address
Postbus 1738
3000 DR Rotterdam
Netherlands