T.W. (Thomas) Frick MSc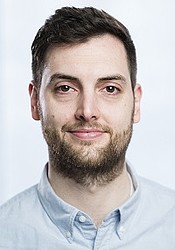 Rotterdam School of Management (RSM)
Erasmus University Rotterdam
ERIM PhD Candidate
Field:
Logistics & Information Systems
Affiliated since 2013
Thomas Frick is a PhD candidate in the Department of Technology and Operations Management at Rotterdam School of Management. His research lies in the intersection of information systems and marketing. Within his dissertation he focuses on advertising personalization and its implications for firms, consumers, as well as advertising platforms.
Thomas holds a Bachelor of Science in Business Administration from LMU Munich and a Master of Science in Business Information Management from Rotterdam School of Management. Thomas has working experience within the telecommunications and consulting industry where he mostly focused on analytical topics.
---
PhD Track Social Advertising
Abstract
Social Media has been established as major communications tool within our societies.
Over a billion people actively use the most popular social media platform Facebook
every month. To be able to provide services to such a huge amount of users social
media platforms mostly rely on revenue generated through selling advertising space.
Social advertising, which is the advertising presented to users on social media, relies
on several mechanisms to address consumers with personalized content. Advertisers
can target consumers based on their preferences and demographics but also based on
their underlying social networks. By making use of the information regarding user
connections both social influence and homophily of users are used to positively
influence advertising performance. Despite these seemingly tremendous
opportunities for advertisers, the performance of this new channel for digital
advertising remains unsatisfactory for a lot of advertisers. We propose 4 studies to
help shed light into the underlying mechanisms of social advertising and design more
effective social ads both for advertisers and consumers. (1) We analyze retargeted
marketing in a social media context and identify how closely consumers should be
retargeted in terms of product specificity, temporal distance, as well as social
endorsement. (2) We investigate the influence of social endorsement on privacy
concerns of users and other advertising performance defining variables in the context
of social advertising. (3) We show that social advertising addresses consumers early
on in their purchase decision process and suggest a more sophisticated success
attribution model to capture spillover and carryover effects. (4) Lastly, we examine
social advertising on mobile devices and look into cross-device dynamics of
advertising performance.
Keywords

Advertising Effectiveness, Facebook, Mobile Marketing, Privacy Concerns, Purchase Decision Process, Retargeted Marketing, Social Advertising, Social Endorsement, Social Influence, Social Media, Success Attribution

Time frame

2013 -
Publications (10)
Articles (10)
T.W. Frick & Ting Li (2016). Social Retargeting: A Field Experiment. In Statistical Challenge in eCommerce Research Symposium (SCECR)

T.W. Frick & Ting Li (2016). Social Retargeting: A Field Experiment. In The Economics of Information and Communication Technologies, ZEW Conference. Centre for European Economics Research

T.W. Frick, Ting Li & P. Pavlou (2016). Investigating The Impact Of Social Influence On The Personalization-Privacy Paradox: An Eye Tracking Study. In INFORMS 2016. Nashville

T.W. Frick & T. Li (2015). Social Retargeting – A Randomized Field Experiment. In 37th ISMS Marketing Science Conference

T.W. Frick & T. Li (2015). Understanding Information Privacy Concerns in Social Advertising: An Eye Tracking Study. In 37th ISMS Marketing Science Conference

T.W. Frick, D. Tsekouras & Ting Li (2014). For Whom, How, and Where? Examining the Relationship between Social Media and Music Album Performance. In Tenth Symposium on Statistical Challenges in eCommerce Research (SCECR 2014). Tel Aviv, Israel

T.W. Frick, D. Tsekouras & T. Li (2014). The Times They Are A-Changin:Examining the Impact of Social Media on Music Album Performance. In Annual Meeting of the Academy of Management. Philadelphia, US

T.W. Frick & D. Tsekouras (2013). The Times They Are A-Changin: Examining the Impact of Social Media on Music Album Sales and Piracy. In 7th ICT Conference Paris on The Economics of Information and Communications Technologies
---
Address
Visiting address
Office: Mandeville Building T09-08
Burgemeester Oudlaan 50
3062 PA Rotterdam
Postal address
Postbus 1738
3000 DR Rotterdam
Netherlands