Dr. V. (Vadym) Volosovych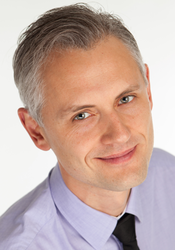 Associate Professor
Erasmus School of Economics (ESE)
Erasmus University Rotterdam
Associate Member ERIM
Field:
Finance & Accounting
Affiliated since 2010
General Expertise
Vadym Volosovych joined Erasmus University in 2010. He received his PhD in economics from the University of Houston (USA) in 2006. He also holds a BSc in international economics and law from Dnipropetrovsk State University (Ukraine) and an MA in economics from the National University "Kyiv-Mohyla Academy" (Ukraine).
His research is broadly on international macro-finance, focusing in particular on understanding the patterns of international investments, the effects and explanations of economic integration on macro and micro level, firm productivity, and the linkages between real and financial sectors in open economies. Following recent trends in the literature, he uses micro-level data (i.e., data at the firm level) to answer traditional macroeconomic questions about macroeconomic volatility and co-movement. He is also interested in research on private equity and leveraged buyouts, development economics, and history of globalization.
Dr. Volosovych is an Associate Editor of Visnyk of the National Bank of Ukraine (the scientific publication of Unraine's central bank) and has been a visiting scholar at the National Bank of Ukraine, the research department of the International Monetary Fund, Washington D.C., and an assistant professor of economics at Florida Atlantic University (USA). In Ukraine, Dr. Volosovych worked as a research associate at the Institute for Economic Research and Policy Consulting in Kiev. At this position Volosovych wrote research papers and advised the Government of Ukraine on issues related to macroeconomic, monetary, exchange-rate, and investment policy. His non-academic experience includes work in commercial banking and small business development.
Information about his research is also available at: IDEAS EconPapers SSRN
PhD Track (1)

Role: Daily Supervisor
PhD Candidate: Dyaran Bansraj
Time frame: 2015 -
Recognitions (5)
Organization Memberships (4)
American Economic Association

Member

European Economic Association

Member

Econometric Society

Member

International Economics and Finance Society

Life Member
Side positions
Erasmus School of Economics Education Committee (Opleidingscommissie)

Faculty Member
---
Address
Visiting address
Office: Tinbergen Building H14-30
Burgemeester Oudlaan 50
3062 PA Rotterdam
Postal address
Postbus 1738
3000 DR Rotterdam
Netherlands